20 N0-Bake Recipes For Kids
No-bake recipes are a great way to introduce your child to cooking. These recipes require very little to no supervision, leaving you with more time for you! Below, you'll find 20 No-Bake Recipes for Kids you'll want to make all year long, including no-bake cheesecake bites, frozen banana treats, and no-bake cookies!
This post may contain affiliate links. Read my privacy policy.
We all LOVE having an arsenal full of snacks, and easy recipes. These were great recipes when my boys were learning to cook. They learned knife skills, measuring ingredients, and how to have fun in the kitchen. No-bake recipes require very little to no supervision, unless the kids still need supervision with knives. Moreover, these recipes are great activities to keep them busy.
These Easy Apple Snacks require no baking and few ingredients! You can change up the ingredients to keep them interesting, and they're so fun to make for an after-school snack, during the summer, or whenever you're hungry!
Ice Cube Tray Cheesecake Bites? Yes, please! These deliciously, no-bake cheesecake bites are fruity, easy to make, and only sweetened with honey. This treat is perfect for summer and healthier because it's made with Greek yogurt and low-fat cream cheese.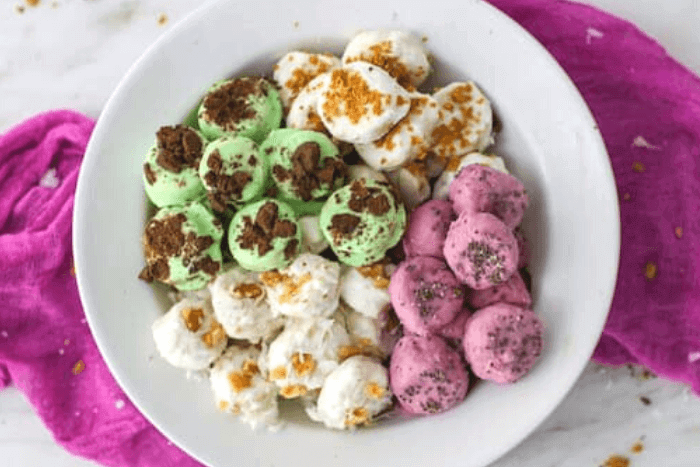 You can do so many things with bananas, like make Frozen Banana Bites! We make these frozen treats all the time and try new recipes constantly. You need frozen bananas and Greek yogurt, everything else is up to you and the kiddos!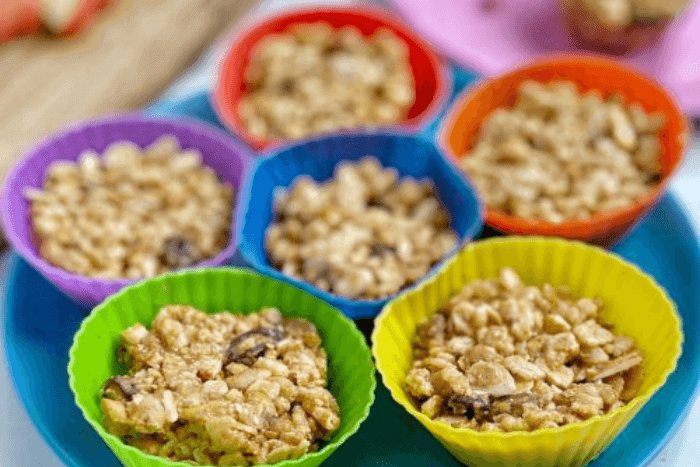 Looking for a new after-school snack that the kids can make themselves? Then No-Bake Trail Mix Cups are for you! Made with oats, pretzels, and anything else you can find in the pantry! This recipe is also perfect for cleaning out the pantry of your left-over ingredients.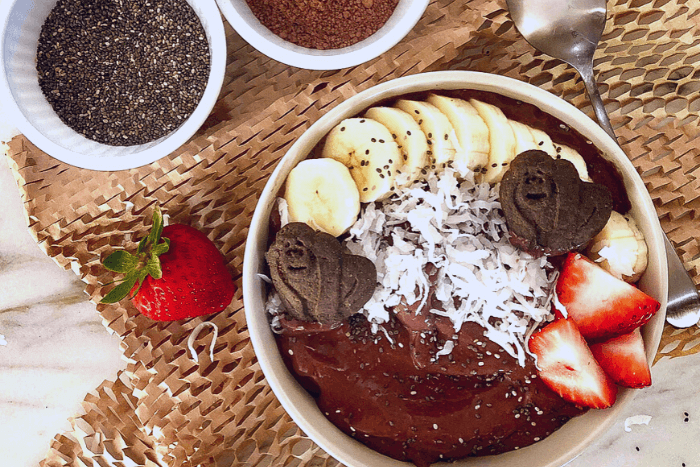 Need inspiration for your next snack time? Have the kids make these Acai Smoothie Bowls ! Made with bananas, avocado, and frozen Acai berries, this healthy snack will bring the kids asking for more!
Banana Split Pudding Cups are a perfect summer snack for kids! Full of bananas, banana pudding, and whipped cream, the kids will love putting these dessert cups together! Plus, they'll learn new skills like reading a recipe, measuring, and knife skills.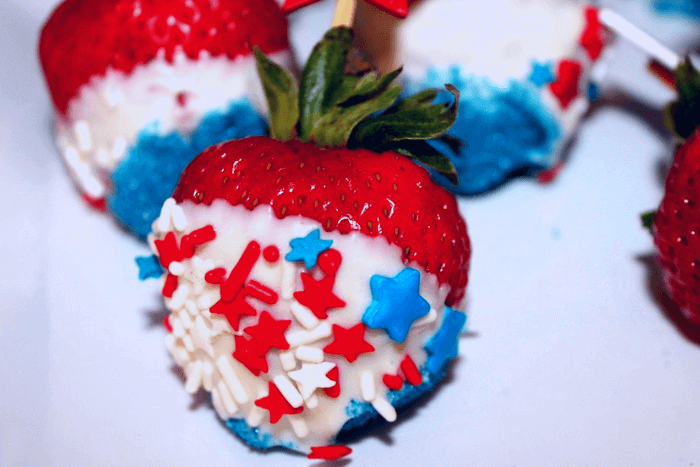 Whether planning for a party, after-school snacks, or just a fun treat, these Star Spangled Strawberries are great for any time of year! Change up the sprinkles and straws and you've got a perfect fruit snack. And the kids can make these all on their own – no baking or cutting involved!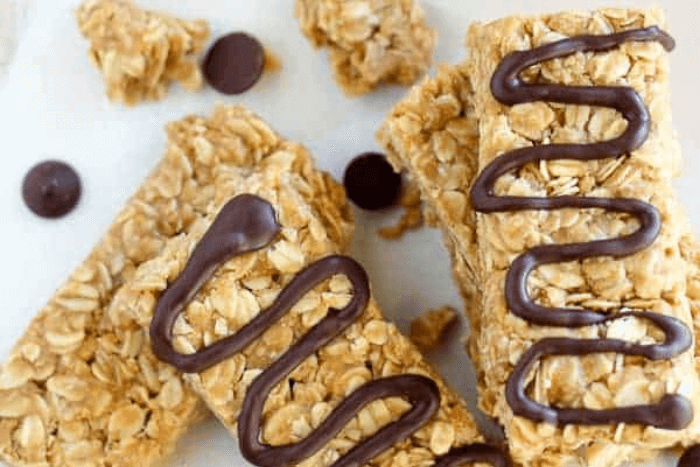 Another fun activity for kids in the kitchen are Peanut Butter Honey No Bake Granola Bars . It's an easy, healthy snack for after-school or even you! Made with peanut butter, oats, honey, and no baking, this simple snack is great for kids to make on their own.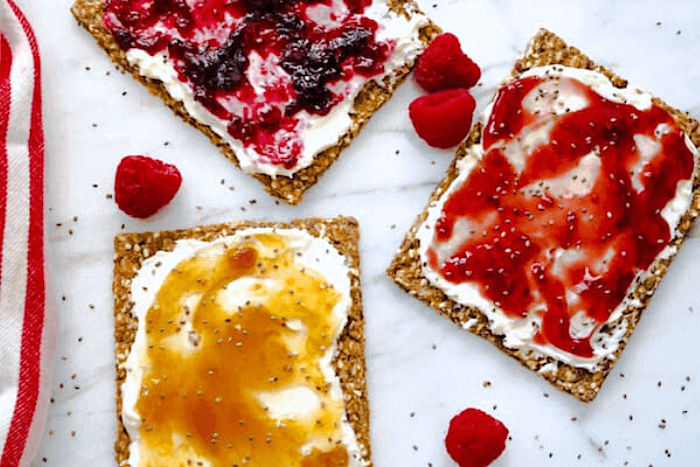 If you're looking for something other than peanut butter and jelly sandwiches for the kids, try these Cream Cheese Snacks! Perfect for lunch, after-school snack, or a scorching summer day, we make these cream cheese snacks with just 3 ingredients. And it's something the kids can make on their own!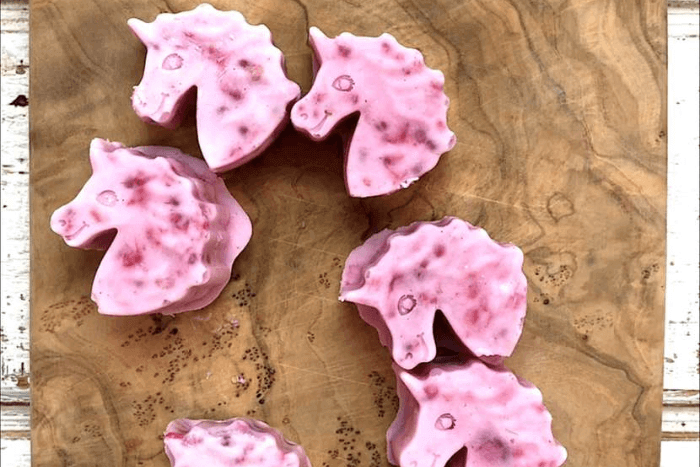 With just 2 ingredients, these Frozen Yogurt Fruit Bites are an excellent source of protein and daily fruit servings! The kids will love making the fruit bites and you'll have extra time for yourself! The only downside to this recipe is when they're gone!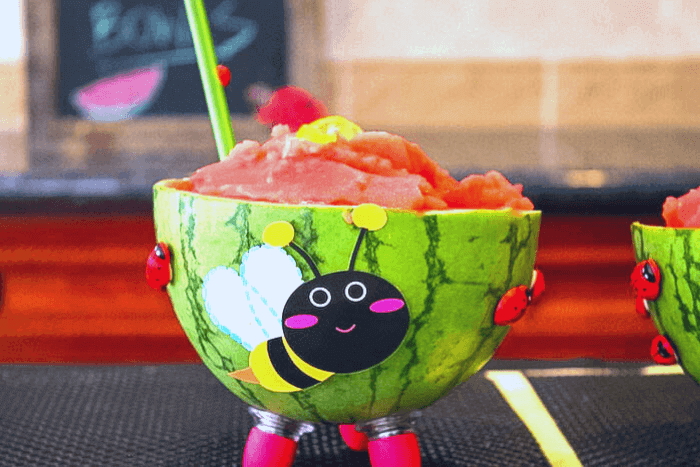 Watermelon Slushy Bowls are a great healthy summer activity for kids in the kitchen, and made with only 3 ingredients – watermelon, lime, and honey! This kid-friendly treat is so healthy and easy to make, the kids will love it!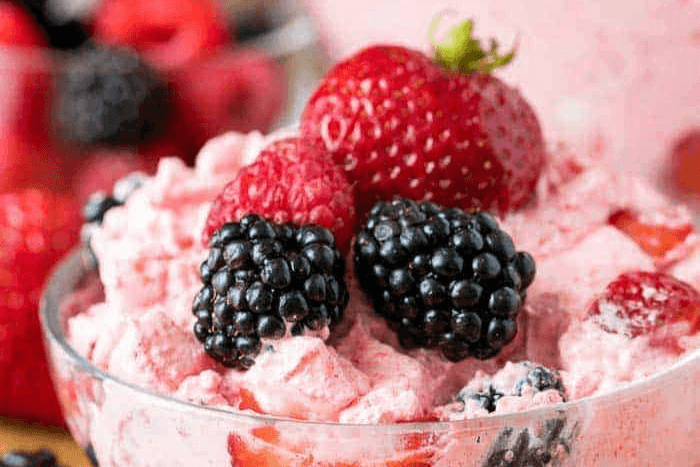 Light and fluffy Berry Fluff Jello Salad is one of those fruit salad recipes you want to make all the time! The kids will love making this snack because it's sweet and fun, and you'll love it because it's healthy and fresh!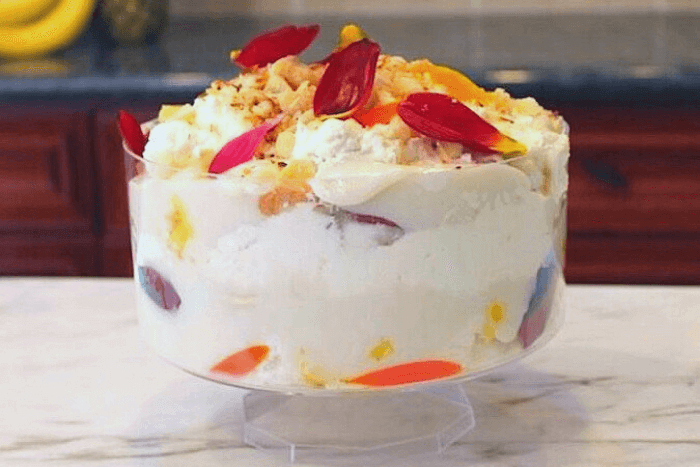 Trying to impress your kids with a snack/dessert that is new and exciting? Make this Hawaiian Trifle with Edible Flowers! It's easy, fruity, and delicious! To make this summer treat more fun, have the kids make homemade whipped cream and chop up a fresh pineapple!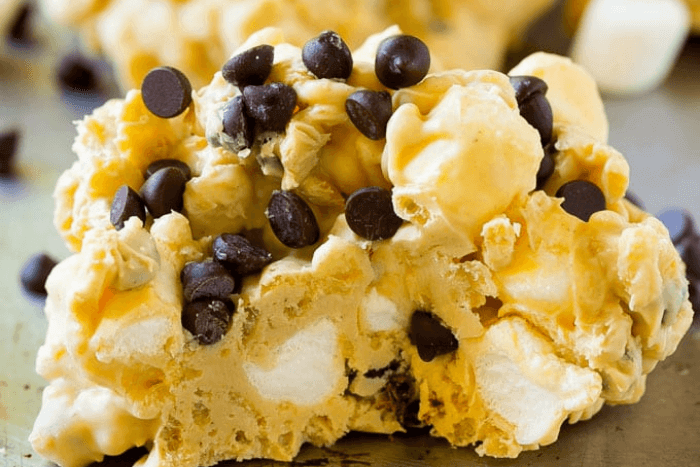 No-bake cookies are a marvellous way to start kids cooking on their own! They get to measure ingredients and read a recipe, all while making these addictively yummy treats! Dinner at the Zoo loads these Rocky Mountain Chocolate Factory inspired Avalanche Cookies (no-bake) with peanut butter, marshmallows, and chocolate chips!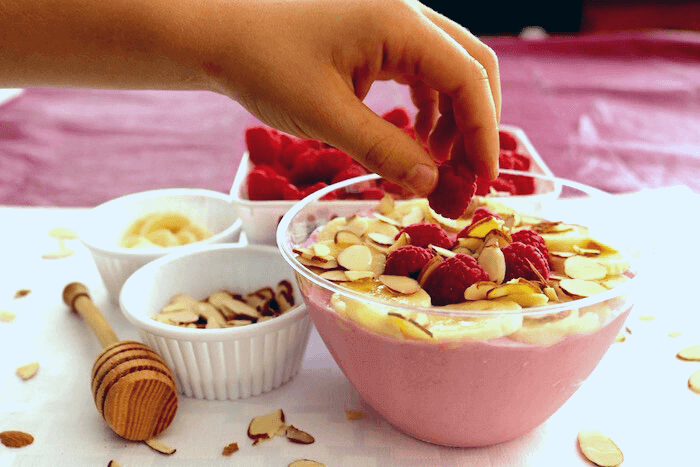 Raspberry Honey Smoothie Bowls are the way to go when starting kids cooking on their own! There isn't much prep, but they look like it took hours! Also, as an added kid activity, they can design the top any way they please, bringing out all the creative juices. These smoothie bowls are so delicious and healthy, the kids will keep coming back for more!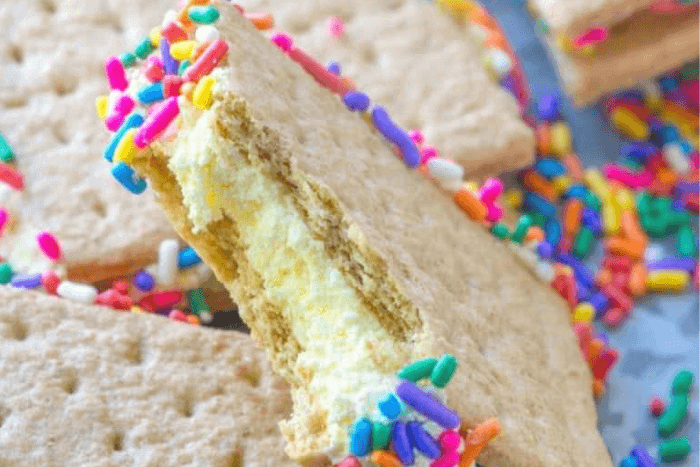 Graham Cracker Goodies are such a simple and easy treat to make with the kids any day of the week! You can make this dessert during any season and the kids will thank you for it! These creamy graham cracker goodies are made with Cool Whip whipped topping and instant vanilla pudding. Cover them in sprinkles and you've got a perfect sweet treat!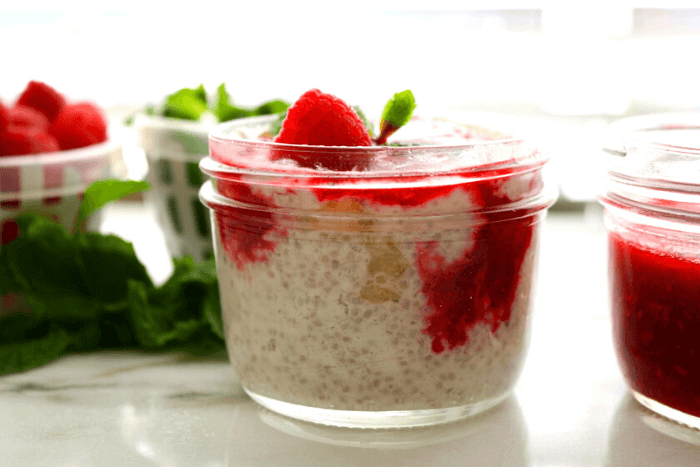 This easy no-bake recipe of Banana Chia Seed Pudding with Raspberry Sauce is ideal for kids to make on their own! The kids can eat this for breakfast, snack, or dessert. Plus, it's a healthy meal, made with coconut milk, banana, and raspberries!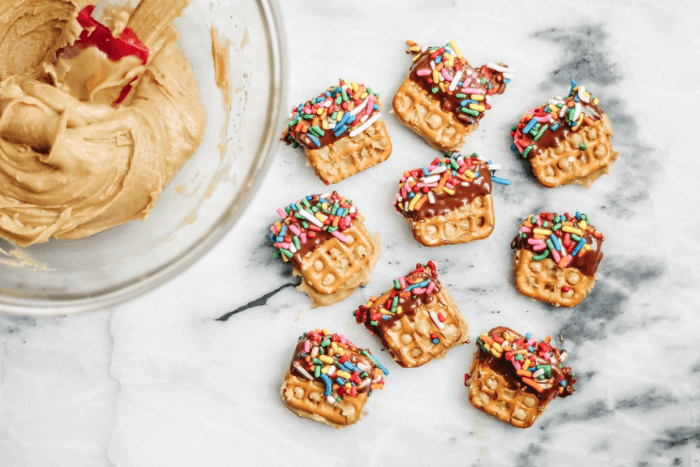 Who doesn't love peanut butter? I know my kids love it, and your kids will love these Peanut Butter Bites from Seven Graces! This easy, no-bake recipe is perfect for an after-school snack or teaching your kids how to cook. Add in sprinkles and it will look like a professional made it!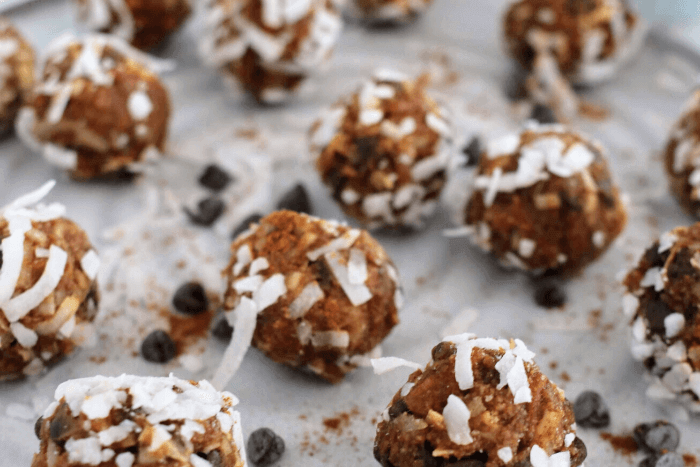 Pumpkin isn't just for fall, you can use it for any time of year! That's what we did with these Pumpkin Protein Balls. Loaded with pumpkin, chocolate chips, and coconut, my boys beg to make these protein-loaded sweet treats!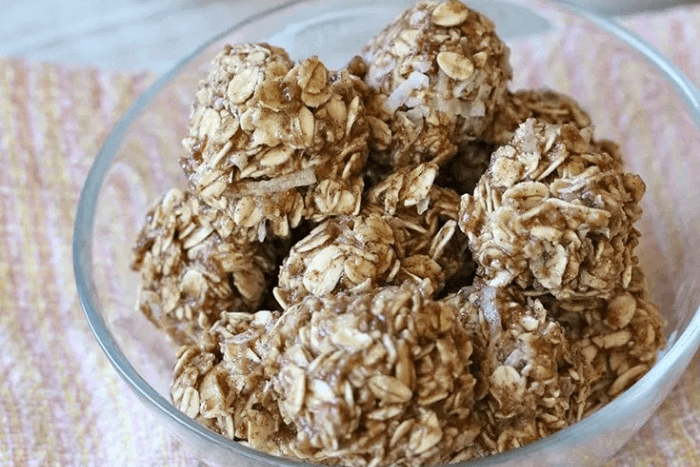 No-bake Banana Cinnamon Oat Bites Recipe from Balancing Motherhood is an impressive way to cook with the kids. This recipe has very little cleanup and the kids will want to lick the spoon when they're done! Even the adults will want to snack on these delicious cinnamon-y treats! Mash some banana, add some almond butter, and a few other things, and viola! You've got a recipe for a lifetime!
Share the ❤️ on Pinterest!