The Best Quiche Recipe is made with lots of veggies. We included multi-color bell peppers, onion, mushrooms, and broccoli, but add whatever veggies you love. This classic dish is easy to make and is great for breakfast lunch, or dinner.
This post may contain affiliate links. Read my privacy policy.
I remember when my boys would not eat eggs. I was worried, because I make so many recipes with eggs. Stress was setting in, and I felt like this was not going to happen.
Then, one day when Brody was about 4 (8 now) he began eating eggs. It started with scrambled, to hard boiled, then open to lots of recipes. The one he love the most was this Best Quiche Recipe, and he called it the "egg pie".
This isn't sweet, but it does have pie crust and looks like a pie. I love that he called it that, and I still ask him to this day if he wants to make an egg pie. This was the start of a delicious tradition.
SECRETS TO A GREAT QUICHE
There's a science to making a quiche. You need to have just the right ratios for that fluffy, flaky deliciousness. I stumbled across this great article called "The Secrets to a Great Quiche". I actually picked up a couple tips that I'm really happy about.
HOW TO MAKE THE BEST QUICHE RECIPE – STEP BY STEP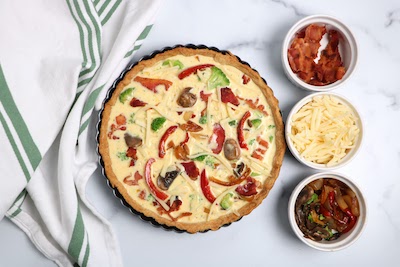 SIMPLE INGREDIENTS
Pie crust
Eggs
Half & Half
Veggies
Cheese
Bacon – optional
IS A PRE-MADE PIE CRUST A GOOD OPTION?
Yes, I have bought and made homemade pie crust, and have found them to be great options. I've even tried the Gluten free, and whole wheat pie crusts and really liked them.
3 Great Options:
Make a homemade pie dough (A pie dough recipe)
Buy a pre-made frozen pie crust
Buy a refrigerated pie crust
If you want to have fun with the kids and teach them the whole process, then I suggest you make the pie dough with them. Otherwise, buying a pre-made one will make this incredibly quick, and simple.
We loaded this up with lots of veggies, like bell peppers, mushrooms, onions, broccoli, Gruyère cheese, and bacon. If you take out the bacon, you now have a vegetarian Quiche. Voila!
EASY STEPS
Prepare pie crust.

Blind bake the pie crust, or brush pastry crust with egg white (this prevents a soggy crust).This step is optional.

Prepare ingredients: shred cheese cut & sauté veggies, and cook bacon.

Prepare egg mixture.

Add ingredients to the pie crust.

Pour egg mixture over pie crust and fillings.

Top with additional cheese if desired.

Bake until eggs are set.

Cool for 8-12 minutes before serving.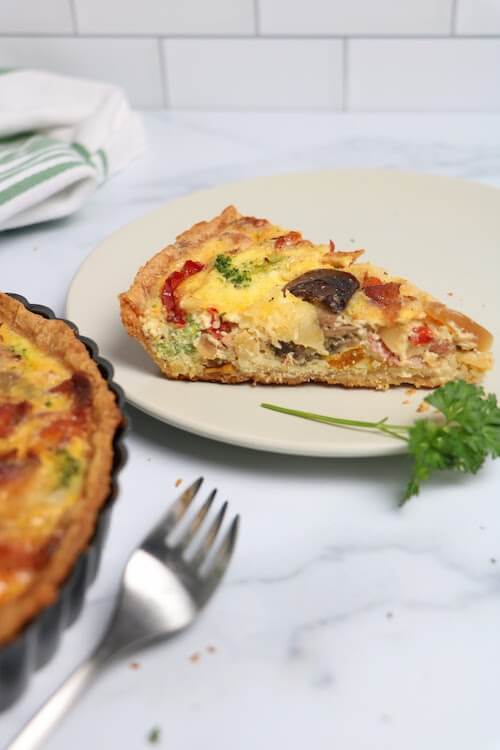 We used Gruyère cheese for this recipe, but you can also use Swiss or another favorite. The classic French Quiche Lorraine which is popular and known to have originated in France, actually originated in Germany. How's that for some fun trivia?
Share the ❤️ on Pinterest!
CAN I MAKE A QUICHE AHEAD OF TIME?
Yes, that's what I love about making quiche. It doesn't last long in our house, but you can refrigerate and freeze them. If refrigerated, it should be consumed with 3-4 days while still fresh, and up to 3-4 in the freezer. I usually make 2 whole pies, and sometimes I will make mini's in muffin tins and freeze them.
TIPS
If you're going to make a quiche, then I suggest making an extra to keep it in the freezer. These are great to have ready for breakfast, lunch, or dinner.
For quicker preparation, use a refrigerated pie crust. It's ready to go!
If edges are browning too quickly before the filling has set, then add foil strips around the edges to keep from burning.
THE BEST MINI QUICHE POTS
The kids wanted to make their own mini quiche pots, and I thought it was a great idea. I'm always trying to encourage them to be creative in the kitchen, and try new things. So far it's working!
Make sure to spray the ramekins with non-stick spray before baking, this way they will pop right out. Also, these are great if you make extra either in ramekins, or muffin tins and freeze them for later.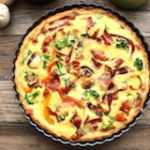 Print Recipe
Best Quiche Recipe
We love this recipe, because you can add whatever ingredients you love. Change up the veggies, and try spinach, kale, or asparagus. Instead of bacon, add turkey bacon, or veggie sausage. Use the egg base recipe, and add your favorites.
Ingredients
1

pie dough

(store bought usually in freezer section)

1 1/2

cups

mixed veggies

(colored bell peppers, yellow onion, white mushrooms, broccoli)

3-4

slices

bacon

5

large

eggs

1

cup

half & half

1

cup

Gruyère cheese

(or you can use Swiss)

1/2

teaspoon

salt

dash

white pepper
Instructions
Preheat oven to 375º degrees F., and set the oven racks to the bottom of the oven.

Roll out pie dough to fit a 9 inch pie plate. Press the dough into the corners and around the bottom, and remove any excess from the top edges. Then place in refrigerator for about 20 minutes to chill the dough. (If you opt to do the next step, than no need to chill first.

(This step is optional, I like to do this. Many other people make quiche skipping this step. Baking the pie dough first will give the quiche a flaky crust, and not doughy.) Place a piece of parchment paper over the pie dough. Then, fill with dried beans or pie weights. Place on baking sheet, and bake on lower rack for 20 minutes. Next, remove the parchment paper and beans. Then, place back into the oven, and bake until golden, about 8 to 10 minutes. Remove from oven, and let cool.

Slice mushrooms, and cut onions, bell peppers, into 1"-2" pieces. Cut broccoli into small pieces. Set aside. Cut bacon using a knife, or scissors into 1" pieces.

Cook the bacon in a large sauté pan using medium heat until slightly browned, about 5-7 minutes. Place the cooked bacon on a plate lined with a paper towel, (to absorb the extra grease.) Pour out the extra bacon grease from the pan, leaving 1 to 2 teaspoons. Start heating the pan again.

Add the bell peppers to the sauté pan over medium heat, and cook 3-4 minutes, then add the onions and cook for an additional 3 minutes, lastly add the mushrooms, and the broccoli cooking an additional 2-3 minutes. All veggies should be nicely cooked at this point. (Be sure not to overcook the broccoli, so it won't get too soft.) Remove veggies from pan, and set aside on a plate.

In a large bowl, whisk together eggs, half & half, salt and pepper.

In the pie plate add 1/2 of the cheese, and veggies, bacon, and half of the egg mixture. The layer the same ingredients again, and fill with the egg mixture. Leaving at least 1/4 from the rim of the pie plate.

Bake for 25-30 minutes until the center is completely set, and slightly browning on the top. Let cool for 5-10 minutes before slicing and serving.
Nutrition
Serving:
1
serving
|
Calories:
285
kcal
|
Carbohydrates:
16
g
|
Protein:
11
g
|
Fat:
18
g
|
Saturated Fat:
7
g
|
Cholesterol:
159
mg
|
Sodium:
453
mg
|
Potassium:
208
mg
|
Fiber:
1
g
|
Vitamin A:
2125
IU
|
Vitamin C:
3.8
mg
|
Calcium:
135
mg
|
Iron:
1.6
mg