The Cantaloupe Treat Bowl, is a great anytime treat!
The Cantaloupe Treat Bowl is a creation from a favorite childhood memory of mine. My mom liked to make a variety of foods, and this was one of those unique creations. This was a little different than her norm, but I never forgot it. I changed it to bring it current by sprinkling Chia Seeds on the top. When I was growing up Chia Seeds were never used or even talked about.
In my moms version she used iceberg lettuce as the bowl, and added cottage cheese and the sherbet and that was it.
Brody, Christina, and I fancied it up a bit by using the cantaloupe as the bowl, cut the cantaloupe into mini flowers, and garnished the top with chia seeds and chopped romaine lettuce.
We were all very happy with the finished Cantaloupe Treat Bowl. The kids happily ate them, and daddy showed up to eat one too.
Click the images below to view larger.
This is so simple to make, and you can arrange the ingredients however you like. Keep the edges of the bowl thick, so your bowl will be sturdy.
I use this one, and a few others all the time when cutting fruit. The kids love it.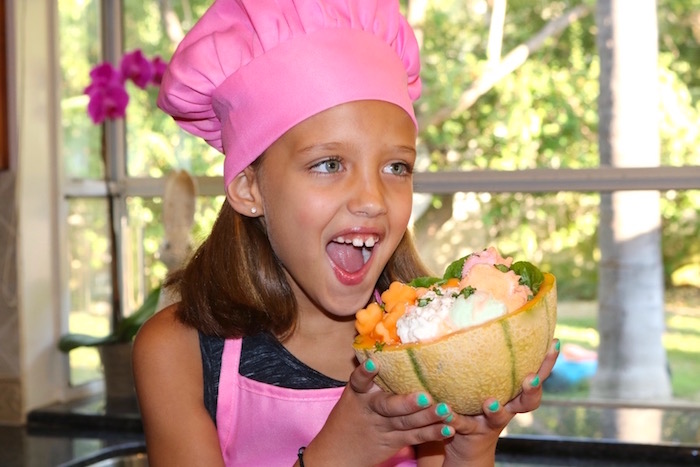 Assemble your bowl as we did, or create your own design. Voila!! Aren't they adorable.
Click here for more fruit treat recipes.
Print Recipe
Cantaloupe Treat Bowl
Ingredients
1

small

Tuscan cantaloupe

,use 1/2 cup for this recipe

1/2

cup

cottege cheese

3

small scoops

sherbet

,we used a small ice cream scooper

3

leaves

romaine lettuce

,also will chop for garnish

1/4

teaspoon

chia seeds

,garnish top
Instructions
Cut the Tuscan Cantaloupe in half, and scoop out the seeds with a spoon and discard.


Now you will remove the fruit from the peel to make a bowl. Using a knife or scoop around the inside of the bowl removing the fruit.tact because you will Don't get to close to the edge, or the bowl will not be sturdy enough to hold all the ingredients.


With the other half of the cantaloupe, slice it horizontally 1/4-1/2 inch to make rings.


Using the small flower cutter, press into the fruit going around the circle. Then press the flower to pop it out. Set this aside


Take the romaine lettuce leaves, and cut them in 1/2. Then arrange the tops into the cantaloupe bowl allowing the leaves to stick out about 2 inches.


Using one of the very green romaine halves, chop into very small pieces and set aside.


Now that this is done, you can add all ingredients to the bowl.


We added the cottage cheese first to the center, next the cantaloupe to one side, the scoops of sherbet to the other side.


Sprinkle the chia seeds, and the chopped romaine lettuce to the top.

Notes
You will end up with extra cantaloupe with this recipe. This was not a problem in my house, as it was eaten up very quickly. Either add more to the bottom of the cantaloupe bowl, or cut the extra into the little flowers and leave out for everyone to enjoy. It looks pretty too. 🙂