Easy Pinwheel Sandwiches & Delicious!
Easy Pinwheel Sandwiches is by far one of the easiest lunches to put together, and one of my kids favorites. Seriously, this could easily be one of my favorites as well. It tastes like a raspberry cinnamon roll, without the cinnamon. (my personal tastebud opinion) Also, I opted to make these with Sunflower Butter because the kids are in a nut free school, so we can't use any nut butters. If I was making these at home for lunch, or a snack I would definitely use almond, cashew, or peanut butter. All great choices. Remember making these is all about the flavors you and your child likes.
Other options, just to name a few:
ham and cheese
turkey and cheese
vegetable cut into strips-carrots/cucumbers/lettuce
cream cheese mixed with raspberry/grape/apricot/etc/ preserves
almond butter with honey and sliced bananas

Click on thumbnail above to view image larger.
Start with using any bread you like. I used a wheat bread for this recipe, as it's soft and easy to roll out. Usually I use whole grain breads with lots of seeds, but whole wheat works best for the Easy Pinwheel Sandwiches.
Also, I rolled out 2 slices of bread to give them a whole sandwich for lunch. Roll over the bread only about 2x to avoid the bread becoming too thin.
Making these reminded me of my childhood. Food is so much more interesting, and creative now than when I grew up. This is in a way going back to the basics. Sweet memories!!
Also, this particular raspberry preserve is from Trader Joe's. It has no added sugar, and doesn't need any. They have it in a few other flavors as well.
They worked best for me when I doubled the bread. I also made this using just a single piece of bread, and it rolled up very small and squished when I cut it. It definitely wasn't as pretty as these Easy Pinwheel Sandwiches.
Click here for other great lunch ideas.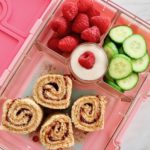 Print Recipe
Easy Pinwheel Sandwiches
This pinwheel sandwich was made using Sunflower Butter, but almond, peanut, or cashew butter are delicious choices as well. The Yumbox was used for this lunch, but you can use the same ingredients however you pack the lunch.
Ingredients
PINWHEEL SANDWHICH
2

slices

whole wheat bread

1

tablespoon

sunflower butter

1

tablespoon

raspberry preserve
OTHER LUNCHBOX INGREDIENTS
1/4-1/2

fresh raspberries

1

small

persian cucumbers

sliced

4

ounces

vanilla yogurt
Instructions
PINWHEEL SANDWHICH
Using 2 pieces of bread, cut the crust/edges off.

With a rolling pin, roll one slice of bread at a time. Roll about 2x , so it's thinned out and flat. Do this again for the second piece of bread.

Scoop and spread the sunflower butter onto one piece of bread. Then spread the raspberry preserve onto the other piece.

Lift the piece with the raspberry preserve on it, and lay in on top of the sunflower butter. Then lift one edge and start rolling from one end to the other end. (It may get a little messy, just wipe off the excess)

Using a serrated knife, cut in half, then cut both pieces into halves. 4pieces. (Cut with knife in a back and fourth motion, and don't press straight down. This will squish the pinwheel.)
RASPBERRIES & PERSIAN CUCUMBER
Rinse with water the raspberries, and Persian cucumbers. Pat dry with a paper towel.

With a sharp knife slice the cucumbers, and place into the Yumbox. Place the raspberries in another spot in the Yumbox.
Yogurt
Spoon the yogurt into the round compartment of the Yumbox. Add a yummy raspberry to the top.