Frozen Unicorn Treats are healthy, fun, and delicious!
My boys and I talked about making these Frozen Unicorn Treats, and I was so excited. First, because it's a healthy snack made with bananas, and Greek yogurt. Second, and secretly, because I love the colors. I was thinking purple, pink, yellow, pale green, and all the softness of the pale colors. Everything is my house is man/boy driven with dad, 2 boys, dog, lizards, and me. Needless to say there's no pinks, purples, or delicate items in my house. Waaa!
This is really a simple recipe thats so cute, and the kids had a blast making them. We talked about keeping it healthy, but did throw in the adorable sprinkles that came with little unicorns in them. I found this fun mix from our local cake decorating supply store. I looked them up online and found this link to the same brand, Sprinkle Pop, but a different color.
There's so many flavors to choose from, so pick what you like for the flavor and colors. Also, be sure to use the Greek yogurt, because the regular yogurt doesn't freeze well, and runs off the banana slices.
We chose these flavors for the Greek yogurt:
blueberry
peach
lime
strawberry
Click on images below to view larger.
Frozen Unicorn Treats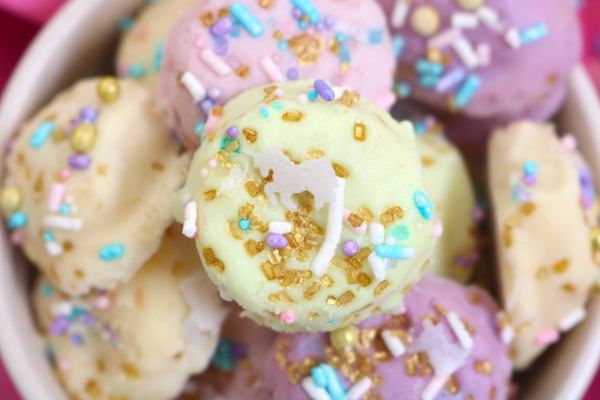 I think I got really lucky to find these sprinkles, because it has a great color combination and these adorable unicorns. They may be made from a rice paper, as they're not sweet and melt in your mouth.
The banana and frozen yogurt combination is really delicious, and the kids were so happy like they were eating unicorn cupcakes. all, the flavors were delicious, but I really liked the lime, and of course blueberry.
If you like frozen treats, try our Raspberry Honey Smoothie Bowl. This one is one of our most popular recipes.
Let us know if you make the Frozen Unicorn Treats, and leave us a comment below!
Print Recipe
Frozen Unicorn Treats
USE GREEK YOGURT!! This freezes really well, and regular yogurt slides off the banana and doesn't freeze well. These are really simple to make with 2 ingredients, and some sprinkles.
Ingredients
4

large

bananas

1

blueberry Greek yogurt

1

peach Greek yogurt

1

lime Greek Yogurt

1

strawberry Greek yogurt

colored sprinkles
SUPPLIES
flat plate or tray that fits in freezer

parchment paper

spoon & butter knife
Instructions
Line your plate or tray with parchment paper, and set aside.

Either pour yogurt into small bowls, or use the container they came in if it's the 5.3 oz bowl cup.

Peel the banana skin, and make 1/2 slices to the whole banana making bite size rounds.

Place a few slices at a time into the Greek yogurt, gently turning them over. Then scoop them up, and place onto the parchment paper. If you uncovered banana, then with the spoon or knife, smooth the yogurt over that spot. You will want them fully covered.

Add the sprinkle over the yogurt before freezing. Try to add less of the round candies, as they are hard when you bite into them. The jimmy's are fine.

Place in freezer for at least 4 hours, to overnight until they a re completely frozen. Peel from parchment paper, and place in bowls. They will last about a week in the freezer.
Notes
If you're using large bananas, then 1/2 banana for each serving.