Healthy Pancakes for Kids – Banana Oat Pancakes
Healthy Pancakes For Kids will give your youngster a great start to their day. Our fluffy banana oat pancakes are packed with heathy goodness. This recipe is made with only 4 simple ingredients, mashed bananas, eggs, oat flour, a little baking powder. That's it!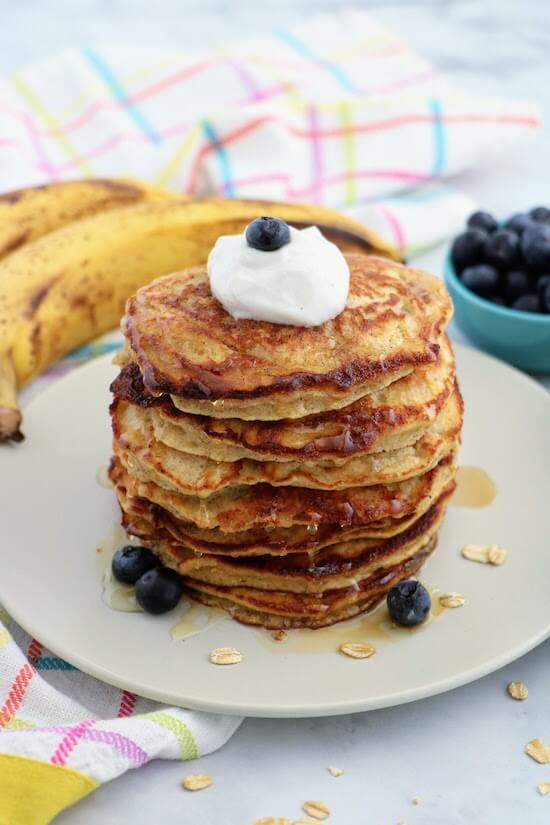 This post may contain affiliate links. Read my privacy policy.
Pancakes are hands down a favorite breakfast amongst kids. This is definitely true around my house, we wanted to have an easy, healthy pancake recipe for kids. If they were going to make them, I only wanted a few ingredients. After several recipe variations, we ended up with this recipe using 4 ingredients. Now my 8 year old heads to the kitchen and whips these up with ease. A dream come true!!
ONLY 4 SIMPLE INGREDIENTS
Banana
Egg
Oat Flour
Baking Powder
Make this simple recipe and add your favorite ingredients to the top, or Greek yogurt, fruit, jam, maple syrup, or a drizzle of honey. For this recipe we used vanilla Greek yogurt, maple syrup, and a few fresh blueberries. These oat flour pancakes are so delicious that you make them daily for a week or two. LOL
STEPS TO MAKE BANANA PANCAKES FOR KIDS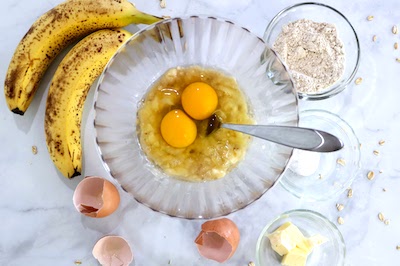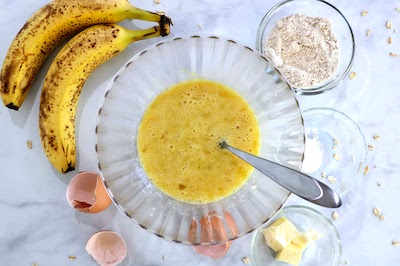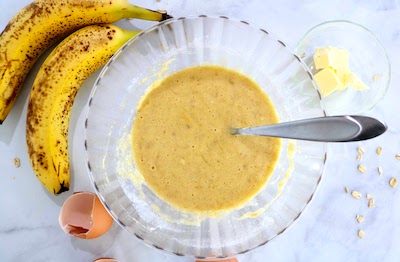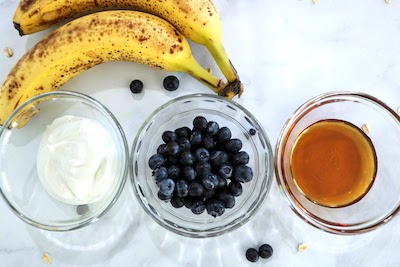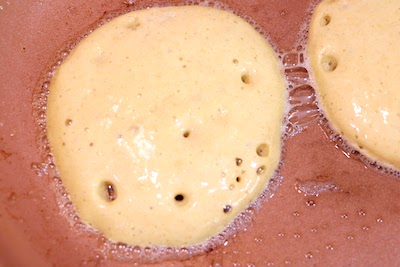 These banana oat pancakes are part of a "5 Day Breakfast Challenge" we created to help kids learn to cook easy breakfast recipes, and build their confidence in the kitchen. In this challenge the kids will learn safety, tips, skills, and recipes, directed by a series of daily videos to demonstrate how to make the recipes.
We've had so many kids take the challenge, and love it. It has given them the skills to keep going in the kitchen, and build on what they've learned.
BANANA OAT PANCAKES VIDEO
HOW DO YOU MAKE OAT FLOUR?
I use oats, and oat flour in several different recipes. Sometimes I purchase oat flour at the market, but I also make this simple recipe at home. It gives a lighter, fluffier texture, and it's a healthier option to a white flour.
OAT FLOUR RECIPE
Ingredients:
1 cup rolled or old fashioned oats
Instructions:
Place the oats into your food processor, or blender.
Blend the oats on high until they are ground into a powder-like consistency.
About 1 minute, depending on speed and blender.
Stop and check that all the oats have been ground into flour consistency .
HOW DO YOU MAKE BANANA OAT PANCAKES FROM SCRATCH?
Seriously, it's so simple to make this fluffy pancake recipe!
Medium heat a 12 inch skillet, then add butter to the pan.

You will need one small to medium bowl depending on if you will be doubling this recipe. Also, you could use a 2 cup measuring cup with a pour spout, mix in this cup, and very easy to pour the batter right into the hot pan.

Add 1/2 of a banana to a bowl, or measuring cup, and mash using a fork until all lumps are mashed. (You may still have a few small ones left, but that would be ok.)

Crack the egg, and add right over the banana, then whisk with the banana until well mixed.

Next, add the baking powder, and oat flour into the banana and egg mixture, mixing until incorporated.

The pan should be hot, and the butter melted. Pour the batter right into the pan. Flip the pancakes once you see air pockets forming all around the batter. They only need 2-3 minuted per side. Flip and cook the other side.
Remove from hot pan, and set on a plate, then add your favorite toppings. We like them with Greek vanilla yogurt, fresh blueberries, and maple syrup.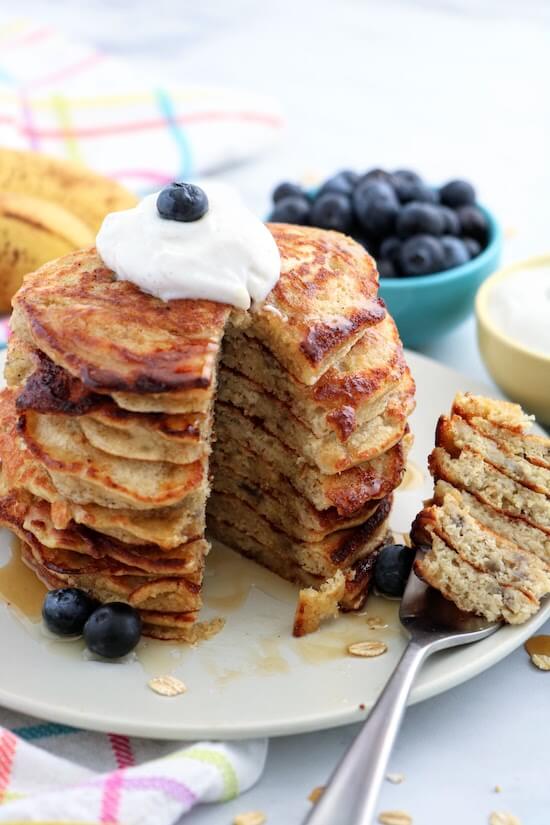 ARE BANANA OAT PANCAKES HEALTHY?
Since these pancakes are made with whole healthy ingredients, they're a good healthy choice.
The old fashioned pancake recipes are typically made with white flour, sugar, and usually milk. Pancakes made with this or a similar ingredients lose a lot of their nutrients from being over processed. They taste great, but not the best choice if you want whole ingredients for the kids.
Let's take a look at the ingredients in Banana Oat Pancakes to see what they're really made of.
Bananas – They're so versatile and can be used in so many ways. They contain antioxidants, several nutrients, and are rich in fiber.
Eggs – Besides the known fact that they're high in protein, they also contain Omega-3s fatty acids. These omegas are good for many things, like heart and brain health to protecting our eyes.
Oat Flour – Oat flour is oats, but ground into a flour. They're a great source of dietary fiber, and are higher in protein and healthy fats than most other whole grains. Moreover, they're loaded with vitamins, and antioxidants.
Baking Powder – Leavening agent to give some fluff to the pancakes.
Butter for the pan – Butter can be substituted for a vegan butter, or vegetable oil to avoid the dairy and saturated fats.
TIPS TO MAKE THE BANANA OAT PANCAKES
Use bananas very ripe, with lots of brown speckles on them. This ensures softer, sweeter bananas.
Mash the bananas until all large lumps are gone. a few small pieces are ok.
If you are making your own oat flour, be sure to grind it to a very fine flour consistency.
Sift the dry ingredients through a sifter to remove any lumps or debris, and the oat flour mixes evenly with the baking powder.
If you're making 1-2 serving, mix the ingredients in a 2 cups measuring cup for easy pouring into the pan.
Print Recipe
BANANA OAT PANCAKES
Ingredients
1

teaspoons

butter

or vegan butter, vegetable oil

1

large

egg

1/2

medium

banana mashed

ripe with brown speckles

3

tablespoons

oat flour

1/2

teaspoon

baking powder
Toppings
1

tablespoon

maple syrup

2

tablespoons

Greek vanilla yogurt

fresh blueberries
Instructions
Heat a the skillet over medium heat. Once hot, add butter or oil to the pan.

In a small bowl whisk the egg, then add banana and mash with a fork into the egg.

Stir in the baking powder and oat flour 1 tablespoon at a time. Don't over mix, as soon as the mixture is combined, then stop stirring.

Pour or spoon batter onto hot pan, 2-3 pancakes will fit in the pan at one time.

After 2 minutes flip pancakes with spatula to other side for an additional 2 minutes. With spatula, lift out pancakes and set on plate. Repeat steps for the remaining batter.

Pour maple syrup over top of pancakes, spoon yogurt over pancakes, add berries on top or on the side.
Nutrition
Serving:
1
g
|
Calories:
330
kcal
|
Carbohydrates:
47
g
|
Protein:
13
g
|
Fat:
11
g
|
Saturated Fat:
5
g
|
Cholesterol:
198
mg
|
Sodium:
124
mg
|
Potassium:
611
mg
|
Fiber:
3
g
|
Sugar:
23
g
|
Vitamin A:
395
IU
|
Vitamin C:
5
mg
|
Calcium:
149
mg
|
Iron:
2
mg