The Spring Roll Lunchbox is so healthy, and easy to make. The kids love this with tofu, carrots, red bell peppers, spinach, and radicchio lettuce. Of course there's so many different ways to make these. Instead of tofu, add chicken or shrimp. Maybe just veggies, or add veggies with mango, or apple slices. Let the kids make their own. If they make it, they will usually eat it.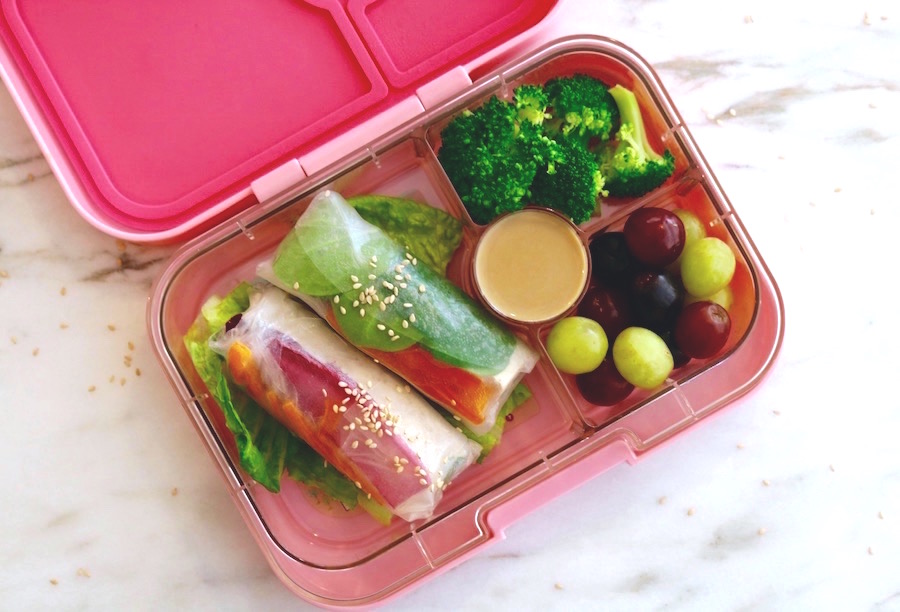 Since this is one of my favorite things to make and eat, I wanted to share. My kids love the Spring Roll Lunchbox. I used tofu in this one, but you can use chicken or even just veggies. They're so pretty and super easy to make. They may look complicated to make, but I promise you it's a synch.
I think one of the hardest things as a parent is feeding our kids, and lunch ideas being top of the list. I hear over and over again about the frustrations with the school lunches. Moreover, many parnet's I know either don't have time to cook, or don't have the passion for being in the kitchen. I'm hoping with the lunches I post, with some being very simple will inspire you to get into the kitchen and make the kids lunches.
The Spring Roll Lunchbox includes:
2 spring rolls, on a bed of romaine lettuce
steamed broccoli, chilled
red, black & green grapes
tahini dip
Click photo above to view larger.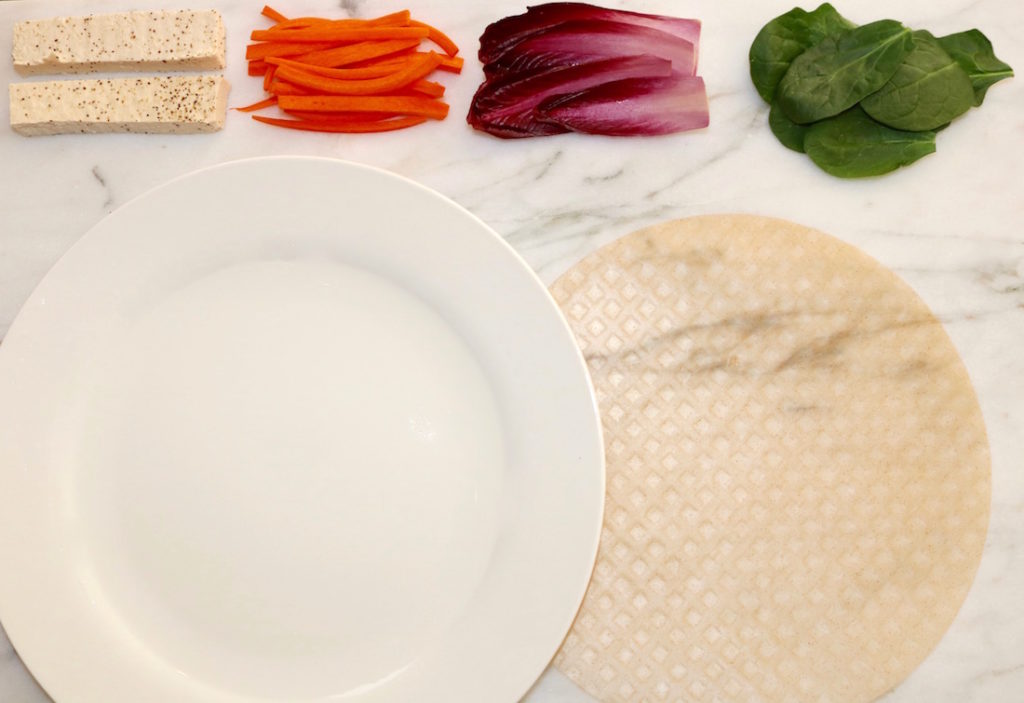 For this recipe I used 2 different rice papers. One is the white, and the other is the brown rice paper. I thought is would be healthier using the brown rice paper. There was just a slight difference in the texture, and the brown rice paper was a bit chewy compared to the white. Also, you want to make sure the rice paper softens up after wetting it, otherwise it won't be easy to work with and will tear. Give them both a try, and see which one your kids like.
What is Tahini? This healthy and easy to make paste is derived from the Middle Eastern culture. We enjoyed the spring rolls with an Easy Tahini Sauce, but these would taste great with your favorite sauce. The Spring Roll Lunchbox is one of our favorite lunches. Leave me a comment below and let me know what you think.
If you're looking for lunch ideas for the kids, check out our other yummy lunches. Leave us a comment below, and let us know if you made this.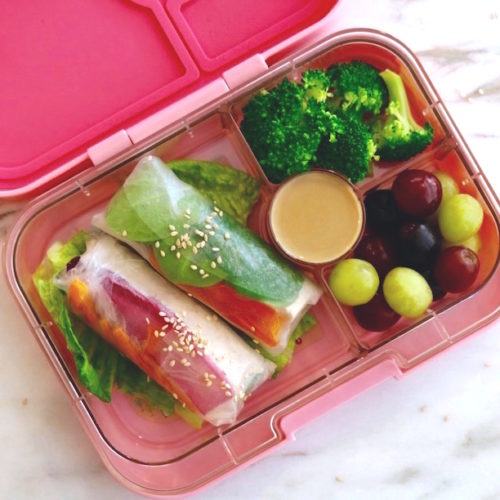 Print Recipe
Spring Roll Lunchbox
This is one of our personal favorites!
Ingredients
3

ounces

tofu

(medium to firm)

1

rice paper

(brown or white)

1

handful

spinach

(washed and dried)

1/2

small

carrot

(julienne cut, long thin strip)

4

leaves

red Belgian endive

dash

salt & pepper

(season tofu to taste)

sprinkle

sesame seeds
Instructions
Wash & dry the spinach, and red Belgian endive. Peel the carrots, and slice. Set all vegetables aside.

Slice the tofu into thick strips, and season both sides with the salt and pepper. Set aside.

To soften the rice paper, use a plate that holds water, of a container you can lay the rice paper in and add water. This doesn't need to be deep, about a 1/2 inch or so.

Submerge the rice paper into the water for a few seconds, making sure it's completely wet. Lift it out onto a dry surface, and lay flat.

Add your ingredients to the center, fold the sides to the center, then taking the edge closest to you and fold it over the tofu and veggies. Then add the red Belgian endive, and rollover the endive to the opposite edge. Sprinkle some sesame seeds on top, and then you're done.
Notes
You can add all the ingredients into the center of the rice paper and roll. Whichever color you would like to stand out, add that color as you roll and it will show though more vibrantly.
Nutrition
Calories:
112
kcal
|
Carbohydrates:
14
g
|
Protein:
7
g
|
Fat:
2
g
|
Cholesterol:
1
mg
|
Sodium:
139
mg
|
Potassium:
215
mg
|
Fiber:
1
g
|
Sugar:
1
g
|
Calcium:
27
mg
|
Iron:
1.5
mg