Strawberry Banana Smoothie Bowl
Strawberry Banana Smoothie Bowl
This Strawberry Banana Smoothie Bowl is simple, yet packed with protein. Smoothies, and smoothie bowls are so popular no matter what time of year. I love making them for the kids, because I can create a nutritious breakfast or snack from one.  The best part is there's no added sugar or sweeteners. This one is sweetened naturally from the fruit.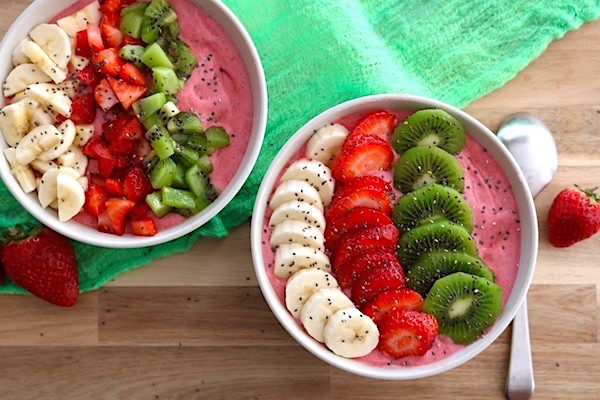 We used very basic ingredients, and added chia seeds for extra protein and fiber.
strawberries
bananas
plain greek yogurt
chia seeds
kiwi (garnish only)
This has become one of the kids favorites. They feel like they're getting a bowl of ice cream, but it's loaded with protein, and healthy ingredients.
The kids love this high protein Strawberry Banana Smoothie Bowl!
What are Chia Seeds?
Chia seeds are oval and gray with black and white spots, and  are the edible seed of Salvia hispanica.  This flowering plant is native to Central America, and it is considered part of the mint family. If you've eaten them, they definitely don't taste like mint. In my opinion they're a bit bland in flavor with a crunchy texture.
Chia seeds are known as an excellent source of omega-3 fatty acid, fiber, protein, and minerals including iron, calcium, magnesium and zinc.
Wikipedia has the full description and history of the Chia Seeds.
How do I get the thick ice cream consistency?
We add all frozen ingredients. We freeze the Greek yogurt in ice cube trays, then we break them into smaller pieces with a kitchen mallet before adding to the blender. Also, we use frozen strawberries and frozen sliced bananas.
Should I use ice in the smoothie?
Instead of using ice for smoothie bowls or smoothies, try freezing your favorite beverage in ice trays. (coconut, almond, soy, or regular milk) This will keep it nice and thick, and tasting great.
Do you add any liquid to this?
Yes, don't add too much liquid or your smoothie will end up like a smoothie. Start with only about 1/4 cup of any liquid of your choice, and add more as needed. Be patient, and scrape down the sides of the blender so all the ingredients are blended.
Will it taste good if I add veggies?
Yes, this happens to be one of my favorite things to add to the smoothie, or bowls. I call them the sneaky greens. This is one place where you can sneak them in for added nutritional value, and the kids will never know.
Simple & Healthy Smoothie Bowl Recipe!
If you like this one, you will enjoy our other Smoothie, and Smoothie Bowl Recipes.
Let us know if you make this, we would love to hear from you! Leave comment below. 🙂
Print Recipe
Strawberry Banana Smoothie Bowl
Ingredients
1

12 ounce bag

frozen strawberries

2

small

frozen bananas

1/2

cup

frozen plain Greek yogurt

(crushed cubes)

2

tablespoons

Chia seeds

1/4-1/2

cup

milk

(or favorite milk alternative, soy, almond, hemp, oat, etc)
TOPPINGS
1/2

small

sliced bananas

2-3

sliced strawberries

1

sliced kiwi
Instructions
Since we freeze the Greek yogurt in Ice cube trays, we break them down before adding top the blender. Place the yogurt cubes in a plastic baggie, and hit them a few times with a mallet to break them into smaller pieces.

Add all the ingredients into the blender.Start on medium and increase until its blending on high. This can take 3-5 minutes depending on your blender.

Scrape down the sides, and add more liquid if needed. Be patient, and don't add too much or it will become a smoothie consistency.

Once all blended , and all lumps are blended. Spoon into bowls, and add your favorite toppings. We added sliced bananas, strawberries, and kiwi. (going for the holiday color scheme) Then sprinkles the top with Chia seeds.
Nutrition
Serving:
8
ounce
|
Calories:
228
kcal
|
Carbohydrates:
39
g
|
Protein:
9
g
|
Fat:
5
g
|
Saturated Fat:
1
g
|
Cholesterol:
5
mg
|
Sodium:
35
mg
|
Potassium:
682
mg
|
Fiber:
8
g
|
Sugar:
20
g
|
Vitamin A:
140
IU
|
Vitamin C:
58.1
mg
|
Calcium:
181
mg
|
Iron:
1.3
mg