Valentine's Popcorn Recipe
Valentine's Day is filled with fun treats, and this Valentine's Popcorn Recipe is a favorite for us during this season. This recipe starts with fresh popped crunchy popcorn drizzled with milk chocolate, red, pink, and white candy melts. Then we finished it with mini heart candy sprinkles. They make great gifts, party treats, or just yummy snacking.
This post may contain affiliate links. Read our privacy policy.
Every year the kids and I brainstorm some fun Valentine's day recipes. They unanimously chose this Valentine popcorn to make. It was super easy, messy, and fun for the kids. Brody said it was painting with candy. I felt like I had two Polluck's in the kitchen. It was really fun for me to watch.
POPCORN GIFTS FOR VALENTINE'S DAY
This pink popcorn makes such a pretty presentation, and really fun popcorn gifts. Using the heart shaped bowls were fun, but we made other gifts by putting them in Valentine boxes, tins, and clear bags with a ribbon. You can get really creative with this using other fun colors, and tins.
A couple other fun ideas are to make single colors, then place the different colored popcorn in the tin. This will have the rainbow effect with the colors side by side. Also, everyone loved popcorn balls. Why not make colored ones?
To make Valentine popcorn balls, first add the melted white chocolate to the popcorn, and give it a good stir so the popcorn is covered with the melted chocolate. Next, roll them into balls, and drizzle them with the melted red, pink, and chocolate.
Any of these ideas with make great gifts, and the kids will have a blast making them.
STEPS TO MAKE THE VALENTINE'S POPCORN RECIPE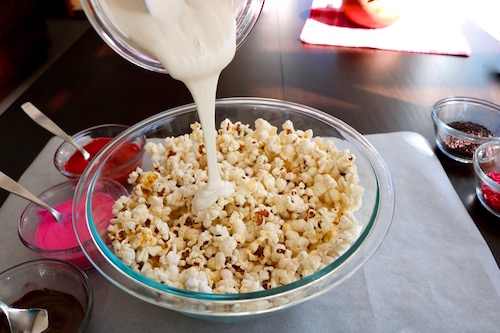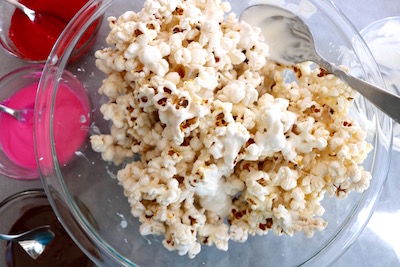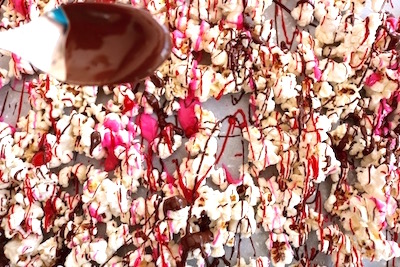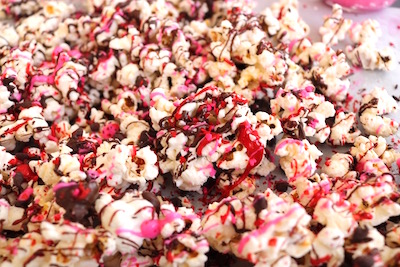 IS VALENTINE POPCORN EASY TO MAKE?
It is easy to make, but there are several steps to prepare the ingredients. For example, you will first need to pop the popcorn. Then measure and melt the chocolate, and each color of the candy melts you plan to use. Once all the ingredients are ready, you can finish it with drizzling the melted candy over the popcorn.
WHAT IS THE BEST POPCORN TO USE?
Any dry popcorn kernels will work for this recipe. I have used several different popcorns, but I found that the organic popcorn tastes the best to me.
Share the 💕on Pinterest!
TIPS TO MAKE THE BEST VALENTINE'S POPCORN
Don't overcook the popcorn or it will taste dry. As soon as your pot is full, pour the popped kernels into a bowl. If there's still kernels popping, quickly place the lid back on to finish.
Melt the candy in 30 second bursts, then stir making sure to mix the bottom. This way it won't burn and stick to the bottom.
Use a spoon to mix the popcorn with the white candy melts, in a bowl. Otherwise, it will get very messy if you use your hands.
Add the sprinkles while the candy melts are still wet, so they stick. Otherwise, they will just fall off.
Let all the candy melts, and chocolate dry completely before breaking apart.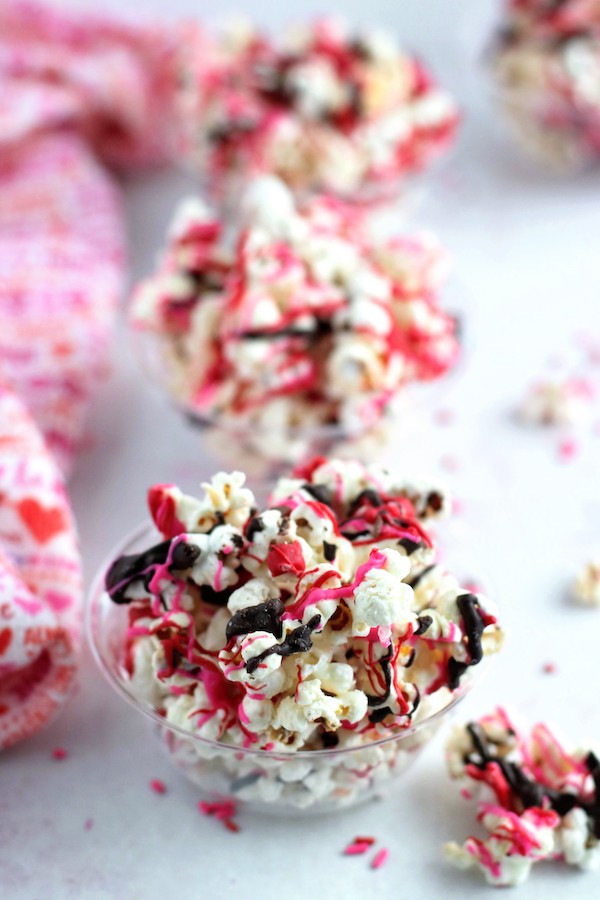 Print Recipe
Valentine's Popcorn Recipe
This recipe starts with fresh popped crunchy popcorn drizzled with milk chocolate, red, pink, and white candy melts. Then we finished it with mini heart candy sprinkles. They make great gifts, party treats, or just yummy snacking.
Ingredients
5

cups

popped popcorn salted

1/2

cup

melted candy melts white

2

tablespoons

melted candy melts red

2

tablespoons

melted candy melts bright pink

3

tablespoons

melted chocolate

heart sprinkles & assorted

shortening

or vegetable oil (shortening needs to be melted)
Instructions
Put the popcorn into a large bowl, and set aside.

Add the candy melts and chocolate in microwave safe bowls. Microwave 1-2 bowls at a time in 20-30 second intervals. Always stir after each interval. I only melt 1-2 at a time so I can manage them. You definitely don't want them to burn. Melt them until smooth, but may have a few lumps. Just stir until all lumps dissolved.

Next you will want to add a teaspoon of vegetable oil, or shortening stirring until well blended. You may need to add more. You will want the candy to still have some thickness, but run off your spoon so you can drizzle.

Now you're ready to decorate the popcorn. Pour the white candy melts into the bowl of popcorn, and mix using a large spoon, covering the popcorn.

While the popcorn is still wet, pour out onto the parchment paper. Spread out so the popcorn is in one layer.

Dip your small spoons into the candy melts and chocolate drizzle over the popcorn until your reach your desired design.

While the candy melts and chocolate are still wet, add the sprinkles. This way they will stick.

Let dry completely, about 15 minutes. With your hands break it apart into different size pieces.

Line your gift box with the colored tissue paper, and place the popcorn inside. Or just eat and enjoy!!
Notes
Other items needed: parchment paper, spoons, tissue paper, gift box/bag/or tin.
Nutrition
Serving:
1.5
g
|
Calories:
102
kcal
|
Carbohydrates:
15
g
|
Protein:
1
g
|
Fat:
5
g
|
Saturated Fat:
4
g
|
Sodium:
11
mg
|
Potassium:
39
mg
|
Fiber:
1
g
|
Sugar:
9
g
|
Vitamin A:
13
IU
|
Calcium:
1
mg
|
Iron:
1
mg