Best 3 Bean Chili is simply the best!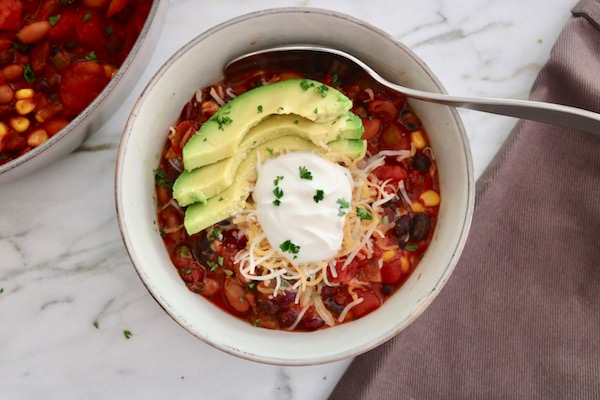 I love to make chili, and best of all, my kids love to eat it. I've cooked chili most of my life, and I have several different recipes I rotate. While some recipes have ground turkey, or chicken, others just vegetarian. I decided I wanted to start cooking 2 plant based meals a week for the family. I feel this creates a variety at mealtime, and gives the body a rest from animal products. My kids call this the Best 3 Bean Chili, so that's what I'm calling it.
Chili is such a quick, and easy meal to prepare. We used black beans, red kidney beans, and pinto beans for this recipe. Although it looks complicated, it's really simple. Actually, I use black beans in many different recipes, because the kids really like them. Also, with beans there's such a huge variety of them to choose form. I incorporate them into the kids breakfasts, lunches, and dinners. They're a great source of protein, and other healthy benefits.
For this recipe I've used canned beans, but if you have the time go ahead and used whole uncooked beans. Since, I'm asked for quick and easy recipes for the busy parents, this is it. Make sure to since the beans out of the can to remove unnecessary sodium.
I didn't add much of a kick to this chili, since it's kids friendly. If you're kids like it spicy, then go ahead an add the chili, woot woot! 🙂
This is not a dairy free recipe because we added cheese, and plain Greek yogurt. It's tastes delicious like this, but feel free to add the toppings your family prefers. When I make this recipe, I always make a double batch to freeze for extra dinner or lunches.
Try our yummy Banana Chia Seed Pudding with Raspberry Sauce recipe for dessert. A favorite around our house.
Leave a comment below and let us know if you make this recipe. 🙂
Print Recipe
Best 3 Bean Chili Recipe
Ingredients
1

teaspoon

olive oil

1/4

cup

diced onions

2

garlic cloves minced

1

15-ounce can tomato sauce

1

15-ounce can diced tomatoes

(I use fire roasted tomatoes, so if your market has it then use it)

1

15-ounce can black beans, drained and rinsed

1

15-ounce can kidney beans, drained and rinsed

1

15-ounce can pinto beans, drained and rinsed

(rinse separately, this will be added in the last 10 minutes of cooking)

1

cup

frozen corn

1/2

cup

water

2

tablespoons

green chilis

(in a 4oz can)

1/2

teaspoon

garlic salt

(add more to taste)

1

teaspoon

cumin

1/4

teaspoon

chili powder

(add more for a spicier chili)

1/2

teaspoon

chipotle

1/4

teaspoon

black pepper
FOR THE TOP
shredded cheese

plain Greek yogurt, or sour cream

chopped parsley

(as garnish)
Instructions
Open the canned ingredients, and set aside. Rinse the black beans, and kidney beans together through a strainer. Rinse the pinto beans separately, as they will get too soft if you cook them the same amount of time.

In a large saucepan over medium heat add the diced onion, and saute for about 5 minutes. Then add the minced garlic for another 2-3 minutes.

Pour the tomato sauce, diced tomatoes, black beans, kidney beans, frozen corn, water, and diced green chili's into the pot.

Next, add the garlic salt, cumin, chili powder, chipotle, and black pepper.

Slowly stir all the ingredients together until well mixed, cover, and reduce the heat to low. Simmer for 20 minutes, stirring occasionally. Then add the pinto beans, and simmer an additional 10 minutes

Remove from heat, and serve in bowls topped with shredded cheese, plain Greek yogurt, or sour cream.
Notes
If the mixture becomes too thick, add 1/2 cup water at a time as needed.