Peachy Green Monster Smoothie, don't let the color fool you, it's oh so good!
We really love this Peachy Green Monster Smoothie around our house. Don't let the green fool you, because it's very delicious. This smoothie is packed with healthy ingredients. We used spinach, kale, bananas, peaches, dates, chia seeds, coconut water, and added a agave to give it a little sweetness. Funny thing is, Brody was suppose to add a little agave, and when he squeezed that bottle over the blender, he kept squeezing, and squeezing. I was on the other side of the counter, and the camera was rolling so I couldn't stop him. He finally stops and says oops. Ha, he knew what he was doing. Funny guy!!
Brody is a great eater, and he's always willing to try anything. On the other hand, Brody's brother Landon will only eat a select variety of veggies. I have found this is a great way to get him to eat the greens he won't normally eat on a plate. He actually loves them in the smoothies. He calls it the salad, so if I'm blending one up he will ask if I'm going to put salad in it. "YES I AM"!
It took me two shoots to get this Peachy Green Monster Smoothie right. The first shoot I didn't like the way I spelled Peachy (Peachie), and didn't really notice until later. Also, I forgot to put the peaches out, and we got all the way to the end, and Brody said, "where's the peaches". We laughed so hard, OMG, I forgot the main ingredient (Peachy). I though I could fix it in editing, even though Brody made a comment about it, I felt it didn't work. Since, this is one of my favorite smoothies I decided to shoot it again. We didn't forget the peaches the second time around.
Give this smoothie a try, and I promise you won't be disappointed. Let us know what you think. 🙂
Click image below to view larger.
Peachy Green Monster Smoothie
Although, the recipe calls for spinach and kale, you can use one or the other. By using great ingredients like spinach, kale, ripe bananas, peaches, dates, chia seeds, coconut water, and agave gives this Peachy Green Spinach Smoothie a lot of healthy benefits.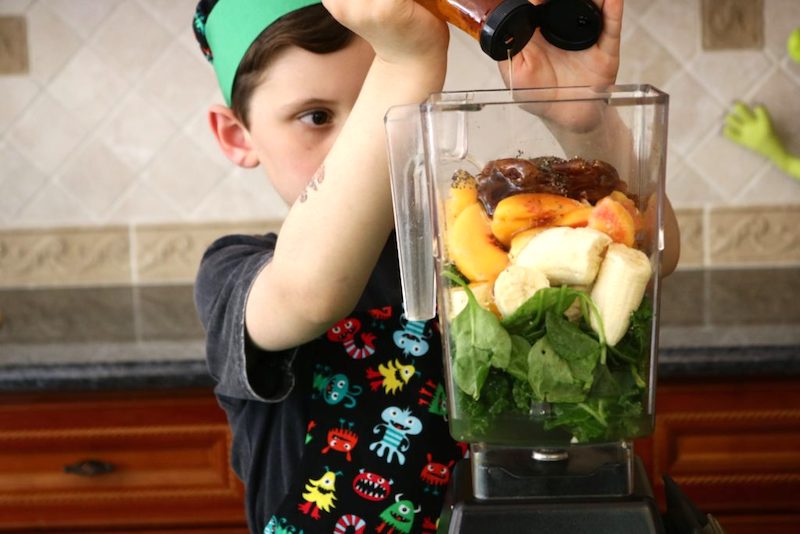 Add all the ingredients into the blender, with the frozen fruit on top. Use a squeeze of agave. Yes, one squeeze. The bananas, peaches, and dates all have a natural sweetness.
Remember how popeye got his muscles. I think over pouring, and it spilling is the funnest part for Brody……….and licking it off the glass. I'm just let him enjoy it. Would you stop your child if he/she was drinking/ licking this smoothie? He actually drank the whole cup, and wanted more.
When you're done making your smoothie, share it with your little monster. Enjoy! Try one of our other green smoothies, tested and approved by kids.
Let us know if you make this, and leave us a comment below. We would love to hear about your experience! 🙂
Print Recipe
Peachy Green Monster Smoothie
Ingredients
1

handful kale

1

handful spinach

1 1/2

Medium banana

1

cup

frozen peaches

1

cup

coconut water

3

Large dates pitted

3

tablespoons

chia seeds

1-2

tablespoon

agave

Start with one tablespoon, and add more if you like sweeter.
Instructions
Add all the ingredients into the blender, adding the frozen peaches closer on the top of the other ingredients.

Blend on medium to high speed, until well blended and smooth.
Notes
Yields 4, 6ounce servings