These are the best Grilled Steak Fajitas!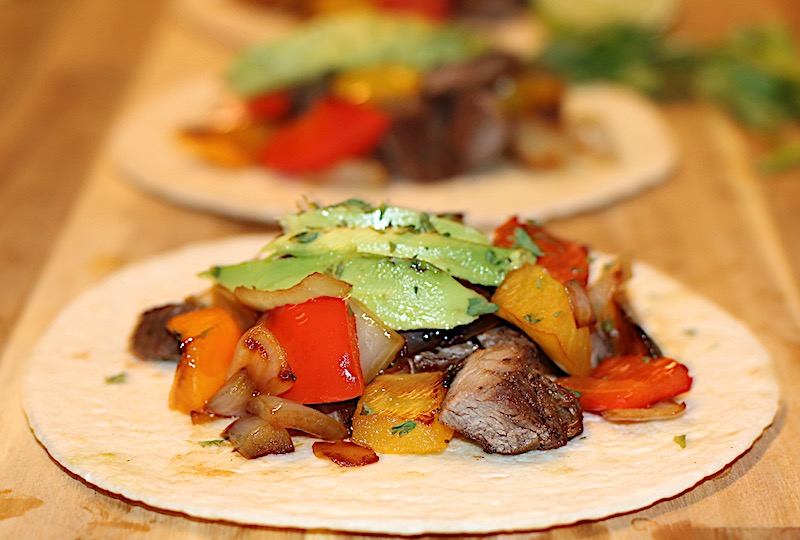 I'm so excited about sharing this delicious Grilled Steak Fajitas recipe. We're not big meat eaters, but I do like to rotate a variety of meats to expose the kids to different foods. Marinating, and grilling the meat adds a special flavor, and the kids and hubby love it. Usually it's gone before it makes it to the tortilla.
Also, this is a great recipe to show off your cooking skills. I make this for just my family, and for parties during the summer as well. I always get the same response, empty plates and happy faces.
Brody decided to take over the grill this time, and has actually been assigned as the "Head Griller" for the summer. Since he's turned 8, I'm finding it so much more fun to have him cook with me. He knows how to handle a knife, and understands he can get burned if he messes around. He's definitely matured over the past couple years, since the no-bake YouTube series.
Grilled Steak Fajitas
He's taking his job very seriously. Well he looks serious here, but he's actually really enjoying it. It is a very important position he's been promoted to, "Head Griller"!
If you like corn, I highly recommend grilling it this way. Then when it's ready, you will have a handle for the corn. Just peel the husks back, and voila, a handle. Little tricks to get the kids excited. 🙂
This cooks up very quickly on the grill, with delicious flavor. We like a little char around the edges, adding another level of flavor.
We cut the meat and vegetables a little differently than traditional fajitas. Brody likes it in smaller pieces, because it makes it a little easier to eat. For the kids that is!
Let us know if you make these by leaving us a comment below.
Check out these kids approved desserts that would go great with the Grilled Steak Fajitas, Hawaiian Trifle with Edible Flowers, and Strawberry Cake Balls.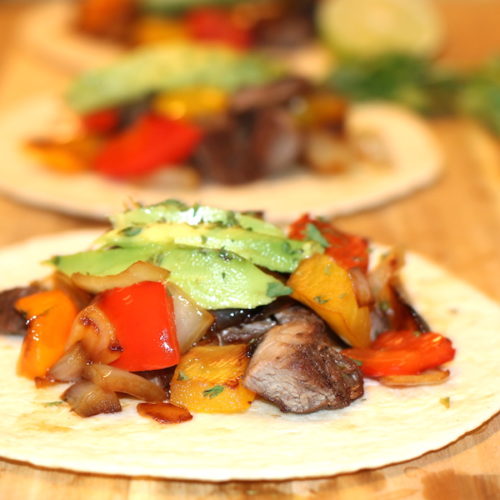 Print Recipe
Grilled Steak Fajitas
We cut the grilled steak, and veggies into smaller pieces for this recipe. This way it's easier for the kids to eat. If no kids involved, no problem just cut into strips. Also, we skipped the dairy for this recipe, but they're delicious with sour cream, Crema Fresca, or Cotija cheese.
Ingredients
STEAK FAJITAS
2

lbs

skirt or flank steak

(trim off extra fat)

1

large

yellow onion

(or any sweet onion)

2-3

tri-color bell peppers

1

teaspoon

olive oil

(to cook veggies in pan)

Cojita cheese & sour cream

(optional, we went dairy free)

8-10

corn or flour tortillas

(depends on how much steak you fill your tortilla with)
STEAK MARINADE
3

tablespoons

olive oil

1/4

cup

orange juice

(about 1 juicy orange)

1/4

cup

lime juice

(about 2-3 limes)

2

tablespoons

soy sauce

1/2

cup

onion

2

tablespoons

garlic

(chopped fine, or minced)

2

teaspoons

garlic powder

2

teaspoons

cumin

2

teaspoons

paprika

1

teaspoon

black pepper

1

teaspoon

garlic salt

(season with this right before grilling)
Instructions
PREP: STEAK MARINADE
In a gallon zip lock baggie, or a large plastic container add all marinade ingredients. Do not add steak or garlic salt at this time. Shake just the marinade to mix all the ingredients, then add the steak and shake it it the close bag or container so the meat is well covered. (still do not add the garlic salt, wait until just before cooking) Measure 2 tablespoons of the marinade and set aside to add the veggies when cooking.

Place in refrigerator 4-6 hours to marinate.
PREP: VEGGIES
While the meat is marinating, medium dice cut the onions and bell peppers. (this is 1/2" x 1/2" square) Store in container, and place in refrigerator.
GRILLING STEAK
Brush grill lightly with olive oil, or use a grill spray. Turn on grill , and preheat on medium -high heat for about 15 minutes.

Remove steaks from the bag or container, and shake off excess. Lightly sprinkle the garlic salt onto both sides of the meat. Now you're ready to grill.

Place on grill, and cook for about 4- 5 minutes per side to reach desired doneness. Remove steak from grill, transfer to a cutting board place foil over top. Let rest 5 minutes until veggies are done sautéing.


Meanwhile as the steak is grilling, it's time to sauté the veggies. In a large pan, heat 1 teaspoon olive oil, and the 2 tablespoons marinade. Add the bell peppers first, and sauté for about 3 minutes so they start to soften, then add the onions and continue to cook for an additional 5-7 minutes until all veggies are soft.

Now slice meat against grain, and again into 1/2" pieces. (Remember you can slice this thin as well, but the kids like it cut this way.)

Here's 3 options for warming the tortillas, depending on what you like. 1. For soft tortillas: wrap 4-5 tortillas tightly in sheets of foil for 2-3 minutes on the grill. 2. For soft, but quick tortillas: place in damp paper towels in microwave and heat 30-40 seconds until warmed. 3. If you like them crisper, add a drop of olive oil to the sauté pan and let this get hot, place tortillas in the pan letting them brown on both sides. (this is our favorite)

To assemble the fajita, top warm tortillas with grilled steak, veggies and desired toppings. (guacamole, sour cream or crema fresca, cilantro, spritz of lime, Cotija or cheddar cheese)