Banana Muffin Tops make great snacks!
I'm always thinking about kids healthy snack ideas. Whenever I make these delicious little Banana Muffin Tops, it's hard to keep them on the plate. They're scrumptious! I've always made fresh baked banana muffins. Sometimes I wanted the kids to have a half, so I started baking the muffin thins and they love them. Healthy, less guilt, and they make a great snack.
I have 2 boys and a husband, so I usually make a double batch. Also, I like to freeze them and have them handy to use for their school snack bags.
Have all your ingredients measured out, and ready to go. I find it's so much easier to measure everything out and set aside, then to reach in the each bags or container as you go. Also, make sure your bananas are very ripe. They start with some brown speckles, and continue to brown. This is when the bananas get softer, and sweeter.
I bought this pan when we made the Sharkfin Whoopie Pie video. It's a whoopie pie pan by Wilton. I just happen to love it to make these Banana Muffin Tops. You can also use it to make cupcake tops, and frost them. The kids are satisfied that they got a treat, but you've just cut the sugar by more than half.
You'll want to spray the pan with a non-stick spray. I like this one from William Sonoma, but there are plenty non stick spays at the grocery store that cost a lot less.
Fill them with the batter just under the rim. I added a little granola, and walnuts to the top. Sometimes I will use chocolates chips, or toasted coconut. Add your, or your child's favorite topping. Btw, If I make them for their school snack bags I don't use nuts since the kids are in a nut free school.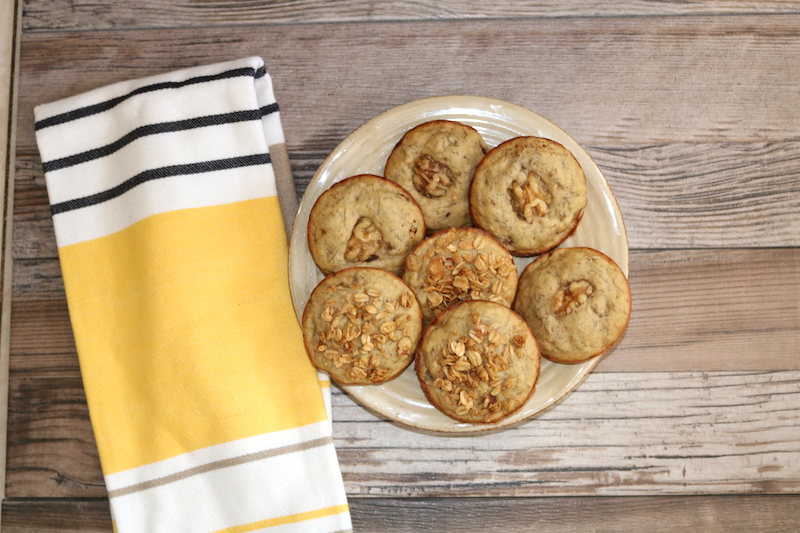 If you like the Banana Muffin Tops, then try our other muffin recipes. Let us know if you try them, and leave us a comment.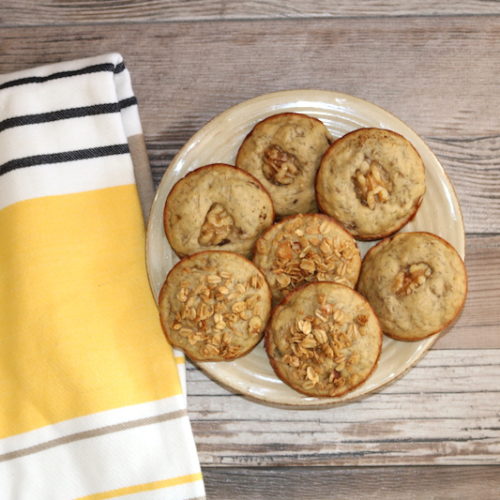 Print Recipe
BANANA MUFFIN TOPS
Ingredients
1 1/2

cup

all purpose flour

fluff the flour with a fork before measuring

1

teaspoon

baking powder

1

teaspoon

baking soda

1/2

teaspoon

salt

3

Large bananas

1/2

cup

brown sugar

2

eggs

1/2

cup

melted butter

sprinkle granola

walnuts, coconut, chocolate chips (These are a few choices for toppings)
Instructions
Preheat oven to 350º F. Spray the muffin pan with the baking spray.

In medium bowl, combine the flour, baking powder, baking soda, and salt: set aside.

Combine in a large bowl, (or Kitchen Aid bowl) the eggs, bananas, brown sugar, and melted butter. Mix until bananas are in very small pieces

Then add your flour mixture on low speed, stopping to scrape down the edges. Once your batter is smooth and well mixed, scoop into the muffin pan. Don't fill to the top, leave small space at the edge.

Bake 10-15 minutes, depending on your oven. Check on them at 10 minutes, and if golden brown around the edges, they're done.