Pumpkin Protein Balls are by far one of the easiest, and best snacks to make. This is the perfect treat with all the flavors of fall. We combined pumpkin puree, shredded coconut, pecans, maple syrup, pumpkin pie spice, cinnamon, and mini chocolate chips. The kids love this delicious treat.
BEST FALL SNACKS FOR A PARTY
With fall upon us, my brain is thinking pumpkin, apples, spices, and yummy comfort food. Since my 2 boys never stop eating, I always have to have things on hand for them. Snacks are definitely on the priority list. I'm that mom that is ok if they have a little bit of sugar, as long as they eat healthy food throughout the day. These Pumpkin Protein Balls are the perfect balance of healthiness, and a treat.
These energy balls are perfect for your next party. The adults, and kids love these. I like to create a party platter with cheeses, crackers, pumpkin cream cheese with celery sticks, pecans, seasonal fruit, and of course the pumpkin protein balls. They look great, and taste amazing.
EASY NO-BAKE PUMPKIN PROTEIN BALLS
We love that these no bake pumpkin bites. Since the kids love to make these, they're usually smaller than the 1 tablespoon. My kids usually make a smaller bite size version. Either they will get two small bites out of one, or pop one whole in their mouth.
The steps for this recipe are so easy to follow. Simply add all the dry ingredients to a bowl and mix it so everything is combined, add the wet or sticky ingredients, and combine. Place in the refrigerator for 30-40 minutes until cold and firm, roll into bite size balls and shredded coconut. Then they're ready to eat!
These protein balls are super easy, and fun for the kids to make. All the ingredients go into one bowl, mix it up, and they're ready to roll.
Ingredients includes:
shredded coconut (unsweetened)
pecans
mini chocolate chips
pumpkin puree
maple syrup
pumpkin pie spice
cinnamon
dash of salt
STEPS TO MAKE THE PUMPKIN PROTEIN BALLS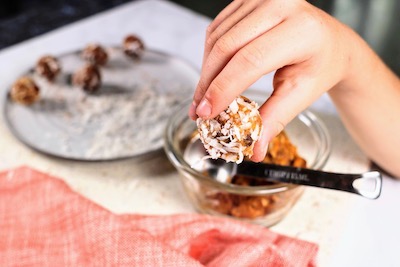 ARE PROTEIN BALLS GOOD FOR YOU?
Yes, and no. This would depend on what you add to the ingredients to make them. The choices can be endless. Try to avoid refined sugars, and too many fats. With the right ingredients protein balls can be turned into healthy powerhouse snacks for energy.
HOW LONG CAN YOU KEEP PROTEIN BALLS?
This will depend on the ingredients you're using. If you add fresh fruit, store in an airtight container in the refrigerator up to 3 days, and about 3 months in the freezer. If using dried fruits, nut butters, coconut, and coconut flour, this will last longer in refrigerator. Also, store in an airtight container in the refrigerator up to 2 weeks, and freezer 3 about months.
CAN YOU EAT RAW COCONUT FLOUR?
You sure can! Coconut flour is made from coconut meat. It's simply dried and finely ground to make flour. It can be used in baking, as a thickener, or add to a smoothie. Check the label when purchasing to be sure there's no added ingredients, and it's coconut flour only.
TIPS TO MAKE THE BEST PROTEIN BALLS
If you want to create your own energy balls make sure to add enough sticky ingredients so they stay together, like coconut oil, honey, agave, nut butters.
If your energy balls are dry and crumbly, add a little coconut water, fruit juice, or plain water.
After mixing the ingredients, place in refrigerator 30-40 minutes so they will be easier to roll into balls.
Use of a measuring spoon will really help the kids to get the exact same sized balls.
Don't use too much coconut flour, they will taste drier if too much is added.
Print Recipe
Pumpkin Protein Balls
These protein balls are super easy, and fun for the kids to make. All the ingredients go into one bowl, mix it up, and they're ready to roll.
Ingredients
1/4

cup

coconut flour

1/2

cup

shredded coconut

1/4 for rolling the balls in

1/2

cup

chopped pecans

1/4

cup

mini chocolate chips

1

teaspoon

pumpkin pie spice

1/2

teaspoon

cinnamon

dash

salt

1/2

cup

pumpkin puree

1/4

cup

cashew butter

2

tablespoons

maple syrup
Instructions
In a medium bowl add the dry ingredients, and mix well.

Next add the pumpkin, cashew butter, and maple syrup. Mix together with a fork until all ingredients are well incorporated.

Place in refrigerator for about 40 minutes. This will make the mixture cold, and easy to roll into balls.

Pour shredded coconut into a bowl, and set aside.

Remove from refrigerator. Measure 3/4 tablespoon of mixture, and roll them with your hands into the balls.

Take the formed balls and drop them in the bowl of shredded coconut, (about 5 at a time). cover them in the coconut, then remove and place on a plate.

Enjoy right away!! Refrigerate the remainder 3-5 days, or up to 3 months in the freezer.
Nutrition
Serving:
3
g
|
Calories:
196
kcal
|
Carbohydrates:
15
g
|
Protein:
3
g
|
Fat:
15
g
|
Saturated Fat:
6
g
|
Cholesterol:
1
mg
|
Sodium:
16
mg
|
Potassium:
146
mg
|
Fiber:
4
g
|
Sugar:
8
g
|
Vitamin A:
2396
IU
|
Vitamin C:
1
mg
|
Calcium:
27
mg
|
Iron:
1
mg