You won't believe how delicious this Raspberry Honey Smoothie Bowl is!
The Raspberry Honey Smoothie Bowl is one of our newest creations. Smoothies have been around for along time…..nothing new to hear the word smoothie. As common as this is, I have found it's a healthy and delicious anytime treat for the kids and the adults. Around my house we make smoothies all the time. I love that the kids put together their own ingredients. They know to use a protein, using either yogurt, nuts, or seeds (e.g. Hemp, Chia). They usually request to include the salad, which makes my day (e.g. spinach, kale, romaine lettuce).
In this smoothie bowl we decided no green, and wanted to focus on the beautiful and fruity flavor of the raspberries. Not to mention all the amazing health benefits! I have to admit this is on my top 3 list, and the kids love it. We have been making this one about 3x per week for the past 3 weeks. It started as a snack, and quickly worked it's way into a breakfast smoothie bowl by adding some granola to the top.
The Raspberry Honey Smoothie Bowl has these simple delicious ingredients,
Plain Greek yogurt
Bananas
Honey
Almonds
Fresh and frozen raspberries
Raspberry Honey Smoothie Bowl
If you love raspberries, check out our Banana Chia Seed Pudding with Raspberry Sauce. It's so easy to make, and no cooking required.
The raspberries created this beautiful shade of pink that made it look almost too good to eat. That wasn't going to stop us!! LOL You want to make sure it has a very thick consistency so your fruit and topping don't sink into the smoothie bowl. I usually like to freeze the bananas too, and this will make the consistency very thick. I'm going to warn you if you don't have a very powerful blender, be cautious of how much frozen ingredients you include. One thing I like to do to make it easier on my blender is to add the frozen yogurt into a ziplock bag, and using a mallet hit them until they break apart into smaller pieces. Then add to your blender.
The next step was to let Brody use his own creativity. He is very meticulous and creative when you puts the food together. When we practiced making this I was layering vertically across the bowl, and he had his own twist on it, and I loved it! Brody kept adding the fruit circularly around the bowl, and strategically placing each piece of fruit. It was mesmerizing watching in his creative zone. last but not least, you can't go wrong using almonds. They have all kinds of healthy benefits, and they add a nice crunch to the smooth texture of the smoothie bowl and the bananas.
I hope you enjoy this raspberry honey smoothie bowl, and I would love your feedback if you decide to make this. 🙂
Click here to check out other Smoothies & Shakes.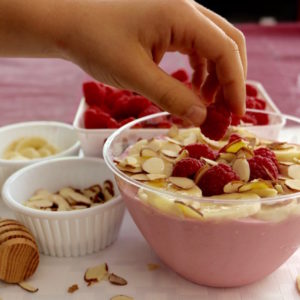 Print Recipe
Raspberry Honey Smoothie Bowl
Servings:
2
smoothie bowls
Ingredients
1 /2

cup

plain Greek yogurt

1

medium

banana

1/4

cup

raw almonds

2

tablespoons

honey

1/2

cup

frozen Greek yogurt

if freezing in ice cube tray, use 4-5

1

cup

frozen raspberries
For the Top
1/2

medium

sliced banana

1

tablespoon

sliced almonds

6-10

fresh raspberries
Instructions
Add all your ingredients in order of recipe, with the frozen ingredients on the top.


Blend on medium speed, and increase to medium high speed until all ingredients are well blended.


When the consistency is thick and smooth. You're done blending. Pour into a bowl and enjoy.

For the Top
Add the banana slices, sliced almonds, and raspberries to the top. Keep in mind you can add anything you like to the top, even drizzle a little honey. We also use, hemp or chia seeds, walnuts, and granola.
Notes
-Always add frozen ingredients to the top. This way your blender won't have to work as hard.
-Also, the smoothie bowls are a little harder to blend than the regular smoothies, since they're thicker. I help the blending process by pressing the ingredients into the blade with the blender tool, while the blender is on. This tool is made especially for the blender. If your blender does not have this feature, then stop the blender and scrape down the sides and around the inside of blender.
-Also, to make it easier on your blender, add the frozen yogurt in a ziplock bag, and using a mallet hit them until they break apart into smaller pieces. Then add to your blender.