Dad's love this Banana Praline Ice Cream made special for them!
Brody & Landon had so much fun making the Banana Praline Ice Cream for Father's Day. They really got into creating something for daddy. They have a very special relationship with their daddy, and he's definitely the fun guy. They go swimming, hiking, biking, lizard & bug catching, and camping. You name it, they go out and do it. This was their way of giving something special back.
Actually this is so easy to make, using just a few ingredients. I don't know if people realize how easy it is to make banana ice cream. There's 1 ingredient, frozen bananas, and 4 ingredients for this flavor including the whipped cream topping. You will need a good strong blender, or food processor.
Click on image above to view larger.
Banana Praline Ice Cream "Sundae"
Get the kids in the kitchen to make this one, because they had so much fun. 🙂
Always best to have all your ingredients ready. And make sure the kids are having fun!! 🙂 I have found the more you give them to do, the more fun they have.
They liked taking turns to make this, since it was for daddy. I had to give them their designated tasks, or things would get very messy.
As the bananas break down, they will become lumpy. Then it will lump up into a mound spinning around in the mixer, and lastly it becomes smooth like ice cream. The process takes at least 3-5 minutes. When they were done the boys used these cute ice cream sundae glasses. They added the caramel, whipped cream, and the candied pecans. The candied pecans are easy to make, or more grocery stores carry them already made for you.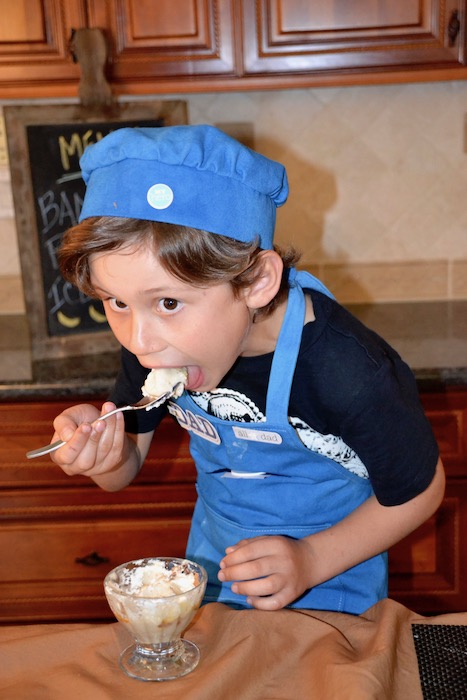 The really did a great job making this, and wow was daddy impressed. We also stored it in these fancy ice cream containers. We use them all the time now making different types of ice cream, and sorbets
If you like using the frozen bananas, try one of our smoothies using them.
Let us know if you made this delicious dessert for the dad, or dads in your life and leave us a comment below.
Print Recipe
Banana Praline Ice Cream
This is such a delicious treat, and simple to make.

Servings:
4
6 oz servings
Ingredients
6

med-large

ripe bananas

1/2

cup

candies pecans

1/4

cup

caramel sauce

whipped cream
Instructions
Slice the ripe bananas into 1/4 or smaller pieces. The smaller the pieces the easier it will be to blend, and easier on your blender.

Put in freezer bag, and spread them out flat and freeze for at least 2 hours or overnight is best.

After frozen, add to the food processor or blender.

Pulse a few times first. This will break into smaller pieces, so it's easier to blend.

Now, turn the blender to medium/high and the bananas will start to get crumbly.

Continue blending, and the bananas will begin to get smooth, and still crumbly.

Stop blending, and scrape down the sides.

Continue blending until all the lumps are gone, and you will notice the bananas get really creamy.

Depending on the power of your blender, this could take 5 minutes or longer. Be patient, as you watch the magic happen.

Transfer to your ice cream container, and add the caramel and candied pecans. I like to layer them, bananas, caramel sauce, candied pecans. Then repeat until the container is full. Also, you can swirl through the layers with a knife to ensure it's in every bite.

Either eat right away as a soft serve ice cream, or put back in freezer for a solid ice cream. (The soft serve tastes so delicious!)

Scoop ice cream into bowls, add whipped cream to the top, and sprinkle a few candied pecans to the top, and enjoy.
Notes
If you want to keep the recipe simple then you can buy the candied walnuts. Most stores carry them, or make your own.