The Best Treat & Gift Idea!
Blueberry Heart Pie Pops …….Yum
These Blueberry Heart Pie Pops were a huge undertaking, with lots of steps to follow. This is what I love about woking with the kids, because they're always up for the challenge. They have so much fun, and are so interested in learning. Not only are they creating a tasty treat, they're creating their masterpieces. They take these cooking projects very seriously, and still have a blast!
I must admit that the Blueberry Heart Pie Pops has become one of my favorites in the cooking series. Because there's so many learning steps, and ingredients that they walk away feeling like a real baker. 🙂
Let's start with the blueberry icing….WOW! This tastes just like blueberries, and not just a sugary glaze. You're left with a sweet, fruity, punch of blueberry flavor that's so surprising and delicious.
Click on images below to view larger.
Blueberry Heart Pie Pops
My advise to the kids is enjoy the process, be patient, make mistakes, get messy, have fun, and reward yourself with a pie pop as soon as your're done. Watch there faces light up…it's the best!! 🙂

It's always fun to make the dough fresh, but for this recipe we kept it simple by using a pre made frozen dough. They had a lot of practices for this episode, and technique to learn for this recipe.
Don't forget to brush the tops of the pie dough with the egg wash to get this nice golden brown color. They actually look beautiful just like this, but the kids couldn't wait to add the blueberry glaze to the tops.
Now this is what they've been waiting for, so let them get creative with decorating. They chose colored sanding sugar, and different sprinkles, and the blueberry and plain glazes. When it comes to decoration, I always say the skies the limit.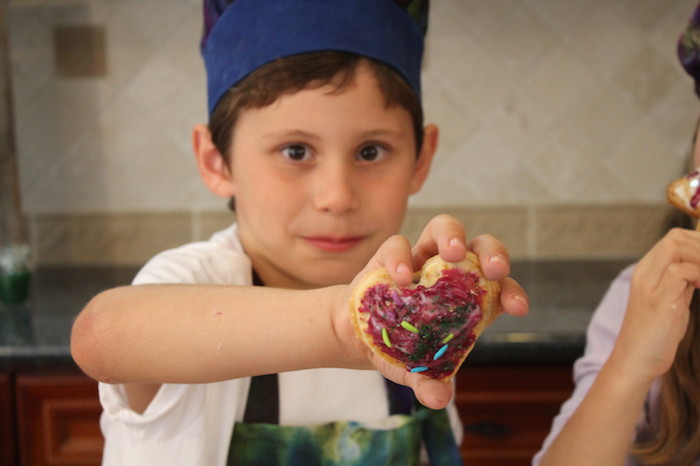 They worked with a lot of patience, and diligence as they made these tiny pie sculptures. It does seem to be creating works of art.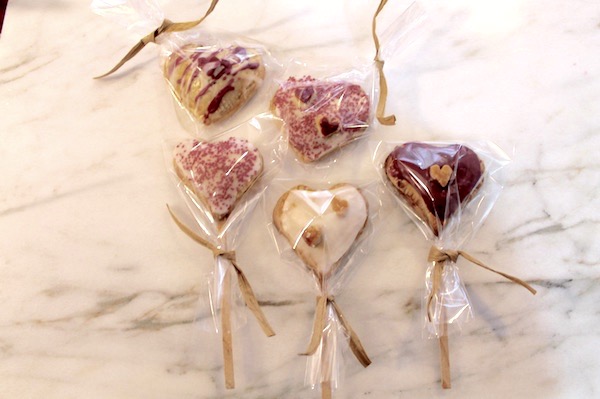 If you like blueberry try one of our other recipes using blueberries like our Blueberry Cashew Breakfast Bowl, or Blueberry Chia Seed Pudding.
Let us know if you made these yummy Blueberry Heart Pie Pops by leaving us a comment below. Thank you!
Print Recipe
Blueberry Heart Pie Pops
Other items you will need: cookie cutters, parchment paper, rolling pin, lollipop sticks, pastry brush, toothpicks, small paint brushes, and sprinkles to decorate.
Ingredients
CRUST
1

sheet pie dough

I buy this, and it comes frozen 2 in a box
EGG WASH
1

egg

beaten for the egg wash
FILLING
1 1/2

cup

frozen blueberries

use fresh or frozen

2

tablespoons

white sugar

can use less to make less sweet

2

teaspoons

corn starch

can also use tapioca starch

2-3

tablespoons

water

1

tablespoon

cold butter

cut into smaller pieces
BLUEBRERY SAUCE
1

cup

frozen or fresh blueberries

2

teaspoons

fresh lemon juice

1/2

cup

water
BLUEBERRY ICING
1

cup

powdered sugar

1/2

teaspoon

vanilla

1/2

tablespoon

milk

1

tablespoon

blueberry sauce

don't add to much as it will become too runny
Instructions
To Make the Blueberry Filling
Combine 1 cup blueberries, sugar, cornstarch, and water in a saucepan over medium-low heat.

Stir mixture until sugar, and cornstarch are dissolved and it starts to thicken. This should take 10-15 minutes.

Once thickened remove from heat, and stir in the butter and remainder of the blueberries. (If you're using frozen blueberries keep them in the freezer until you're ready to use them. They hold water, and may make the filling runny.)

Store in the refrigerator until cool.
To make the Blueberry Sauce
In a saucepan combine the blueberries, lemon juice, and water.

Over high heat, bring to a boil. Then turn the heat down and simmer for 10-15 minutes. When the mixture begins to thicken, it's done.

Remove from the heat, and strain it through a sieve to remove all the skins from the sauce. You will want this smooth. Pour directly into a glass jar or a container and keep in refrigerator until ready to use.
To make the Blueberry Icing
In a small-medium bowl, combine powdered sugar, vanilla, and milk stirring until well mixed and creamy.

Add the blueberry sauce in small spoonfuls at a time, and stirring until well mixed. I you want t deeper purple keep adding until you reach your desired color. If you add too much of the sauce it could get runny, so add slowly.
Assemble & bake the Pie Pops
Preheat oven to 375°. Apply parchment paper to a cookie sheet.

If you're using the frozen pie dough, make sure to let it thaw out before using. It should roll out flat, and is the perfect thickness.

On a lightly floured surface, roll out the dough. Using a heart cookie cutter, press into the dough as many as you can get from the sheet. Again this depends on the size you're using. Lift half of the hearts up, and place them on the cookie sheet, and leaving space for the sticks.(Don't forget you will need two for each pop.)

Place the stick firmly into the center of the heart, with the stick coming out the bottom. Make sure not to push it all the way through.

Brush the edges of the hearts with the egg wash, as this will help seal the edges.

Spoon the blueberry filling into each heart, leaving a small space around the edges.

After you have the filling in, you can put another heart on the top, and firmly press it around the edges. Then take a fork, and press into the edges of the dough going all the way around the heart. This is important, so your filling won't leak out.

Take a toothpick, and poke small holes in the top to vent the pop.

Brush the top with the egg wash to get a golden brown color.

Bake 10-15 minutes, keeping an eye on them. They're small so they can bake fast.

Take them out when they're golden brown, and allow them to cool.

Now you're ready to decorate!!! Either use a piping bag, or spread the icing over the pie pop. Add the sprinkles and set aside to dry, and the icing will harden.
Notes
If you're using the frozen pie dough, make sure to let it thaw out before using. It should roll out flat, and is the perfect thickness.