Best Sautéed Green Beans is a favorite side dish in our house. Lightly steamed green beans, made with olive oil, chopped garlic, sliced almonds, and a dash of garlic salt. They're so delicious with the perfect crunch, guaranteed to fly off the plate.
6 BENEFITS TO EATING GREEN BEANS
One cup of raw green beans contains:
zero cholesterol
low sodium
about 2 grams of plant protein
31 calories
2.7 g of fiber, 4.0 g of fiber for cooked
good source of vitamins and minerals
This is one of my families favorite veggie recipes. Best Sautéed Green Beans is a quick and easy recipe, and from start to finish is only about 15 minutes to make. You can trim and prep the beans ahead of time, so it will be even quicker to prepare come dinner time. Simply wash, snip the ends and store in the refrigerator in an air tight container. They will stay fresh for a couple days.
Not only does this recipe make a great side dish, there's a few other ways my family enjoys these. If you have any left over for the next day, here's a few ways to use them.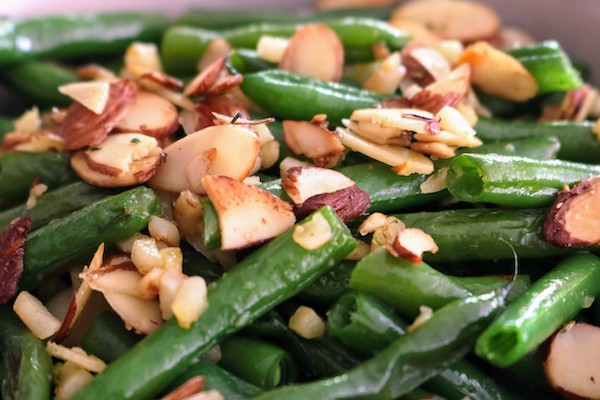 A quick side dish recipe with only 5 ingredients.
fresh green beans
olive oil
chopped garlic
sliced almonds
Lawyr's garlic salt (I use this garlic salt for just about everything, personal favorite)
This is also a great way to get your kids cooking with you in the kitchen. It's easy, safe, and the kids have fun prepping this side dish. When it's time to prepare them, my 9 year old is by my side in the kitchen. He loves being my hands on helper, and it's pretty much his job now. (Besides eating them all, LOL.)
I'm super lucky that my kids became great eaters, and do eat their vegetables. Although it didn't start off that way, but I was persistent and always served veggies with every meal. I would even add them to their breakfast. My kids favorites are green beans, broccoli, and artichokes.
STEPS TO MAKE THE BEST SAUTEED GREEN BEANS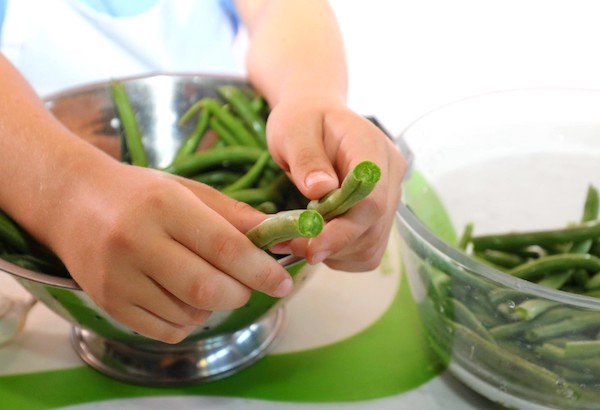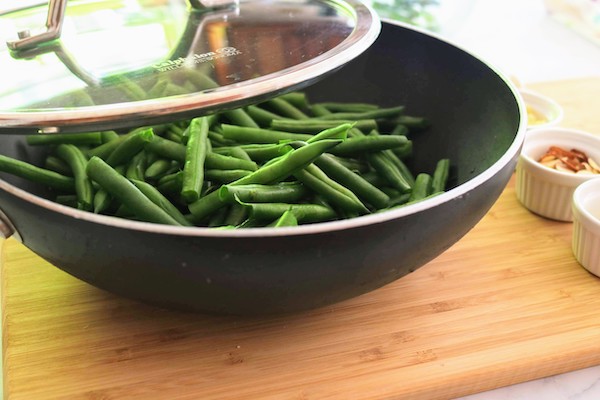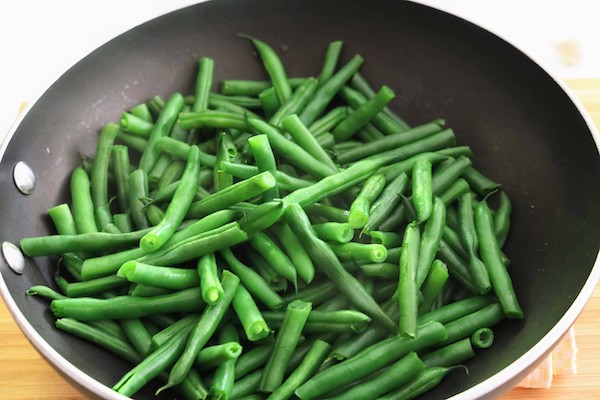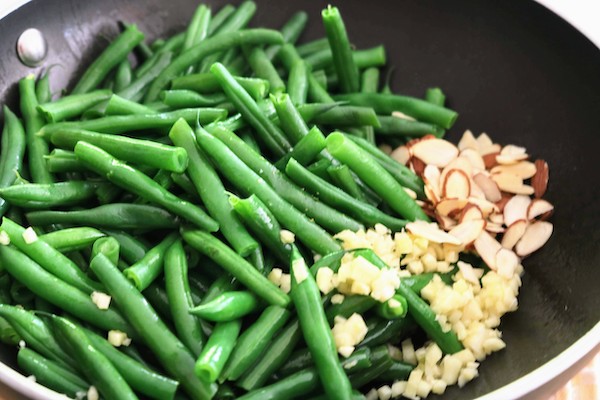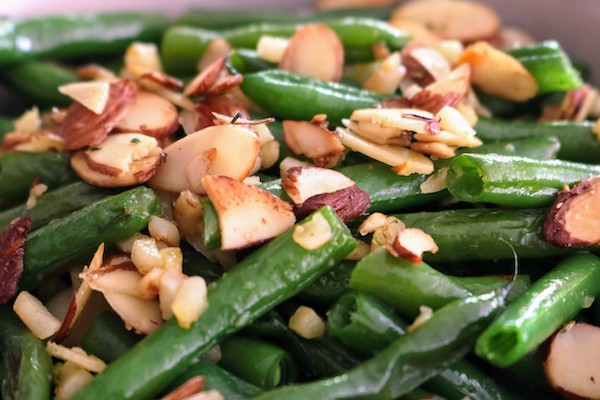 CAN YOU TRIM GREEN BEANS IN ADVANCE?
Yes, this is a great idea if you want to reduce prep time. If you decide to do this in advance, then keep refrigerated in a air tight container or ziplock baggie. Use within 1-2 days for best freshness.
CAN I MAKE BEST SAUTEED GREEN BEANS IN BUTTER OR OLIVE OIL?
You can saute the green beans in either the butter, olive oil, or combine both. This is a personal preference for flavor. I usually only use the olive oil, so I don't add any extra calories. The butter does add an extra element of flavor, that's oh-so-good!
DO YOU NEED TO BLANCH GREEN BEANS?
No, you do not need to blanch them first. Blanching is a process when you boil the green beans a little, and then put them in ice-cold water to stop them from cooking. This gives them a crisp texture before sautéing them. I typically lightly steam them, then add the other ingredients while the green beans are bright green, and crisp. They turn out perfect every time. Check our recipe for cooking instructions.
[et_bloom_inline optin_id="optin_6″]
WHY DID MY GREEN BEANS TURN BROWN WHEN COOKED?
The green beans will go through color variations during the cooking process. They start green, and as they cook will turn a vibrant bright green, to a brownish color, then to a very drab green. They lose their vibrancy, and crisp texture the longer they cook. Also, adding an acid like vinegar or lemon juice will turn green vegetables a brownish muddy color.
HOW DO I KOW IF MY GREEN BEANS ARE BAD?
You can easily text the green beans for freshness through the color, and texture. If you break them in half, you will hear a snap sound. This is an indication they're still fresh. On the other hand, it's easy to spot a bad one. The signs usually include brown spots, soft, mushy, and stringy. If you're green beans have any of these signs, they most likely won't taste good.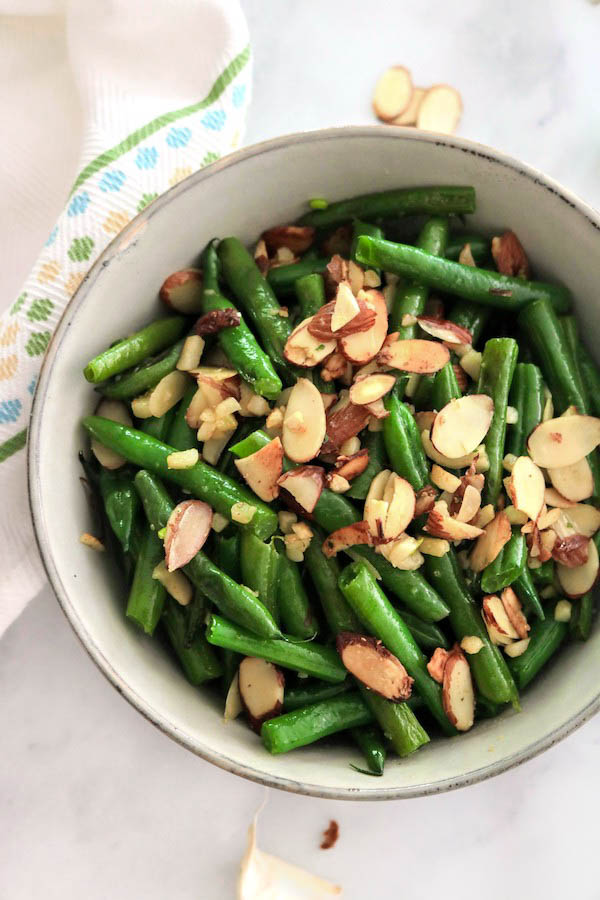 TIPS FOR THE PERFECT BEST SAUTEED GREEN BEANS
This recipe is great to make in a wok. Easy to toss in the pan for perfect even cooking.
Add only the recommended amount of water in the recipe, so they don't over steam.
Only cook the beans until the are a bright green, and still firm and crisp. They will continue to cook when it's time to add the olive oil, and other ingredients.
Make sure to get a light toast on the garlic, and sliced almonds. They taste the best with a crunch. Mmmmm!
IDEAS FOR LEFTOVERS
heat them up with your lunch
add to a salad, cold
add to you childs lunch box (if nut free school)
THIS SIDE DISH RECIPE WILL GO GREAT WITH
Print Recipe
Best Sautéed Green Beans
Best Sautéed Green Beans are lightly steamed green beans, made with olive oil, chopped garlic, sliced almonds, and a dash of garlic salt. They're so delicious with the perfect crunch, guaranteed to fly off the plate.
Ingredients
2

tablespoons

water

for steam

1

pound

green beans

1

tablespoon

olive oil

2-3

cloves

chopped garlic

1/4

cup

sliced almonds

(we like a lot)

garlic salt

add to taste
Instructions
Trim and wash the beans, chop garlic, and measure the other ingredients.

In a wok, or large skillet add the water and green beans. Place a lid on top. On med high heat steam for 5 minutes.

Remove the lid, and drain any extra water. You will want the beans to be firm, and not soft. They will continue to cook with the next steps.

Set pan back on the heat and add the olive oil, garlic, sliced almonds, and salt. Using tongs toss the beans so they're well coated with olive oil and seasoning.

Cook until the garlic and almonds start to brown and turn crisp. For about 5-7 minutes. (check for your desired texture) Remove from heat and enjoy!
Nutrition
Serving:
1
g
|
Calories:
107
kcal
|
Carbohydrates:
10
g
|
Protein:
4
g
|
Fat:
7
g
|
Saturated Fat:
1
g
|
Sodium:
8
mg
|
Potassium:
287
mg
|
Fiber:
4
g
|
Sugar:
4
g
|
Vitamin A:
782
IU
|
Vitamin C:
14
mg
|
Calcium:
62
mg
|
Iron:
1
mg
[et_bloom_inline optin_id="optin_6″]