Easy Turkey Meatballs Lunch – Prep the night before and ready in the morning!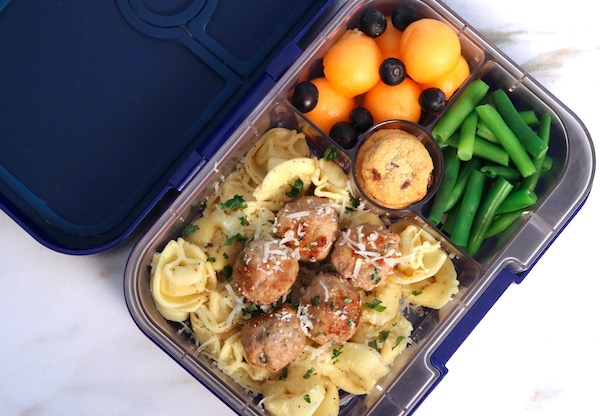 This is a very easy lunch to prepare, because you can prep all the ingredients the night before. If you're a morning person, then this would be a breeze for you to cook in the morning. Also, cook these at night, then heat them up in the morning. Super easy prep! These Easy Turkey Meatballs are great for the kids lunches, because they taste great hot or cold. Also, they're a great source of protein, and they can be paired with just about anything.
I always add veggies to meatballs. I feel it's the best way to sneak them in even if you don't have to sneak them in. Adding veggies to the meatballs will make them taste moist and not dry. I feel confident when I send the kids to school with this as their lunch, their lunchbox is coming home empty.
Click images below to view larger.
Easy Turkey Meatballs
I love looking at all the ingredients. It's a nice healthy variety of food, and really easy to prepare. Personally, I make extra and freeze them so I have choices to grab for the kids lunches.
If you liked this recipe, please share and leave us a comment below. 🙂
If you're looking for other lunch ideas, check out some of my kids favorites.
Print Recipe
Turkey Meatball Lunchbox
Makes 5-6 mini meatballs. This recipe gives measurements to make one serving in the morning for time purposes. Divide one pound of the turkey into four servings, and freeze the other three for future lunches. . The quantity of the other lunchbox ingredients depends on the size of your lunchbox, and the amount your child will eat.
Ingredients
1/4

pound

ground turkey or chicken

1 1/2

tablespoons

kale or spinach

(chopped into very small pieces)

2

tablespoons

parmesan cheese

1/2

teaspoon

garlic salt

dash

black pepper

3

tablespoons

water

(added to pan)

1

teaspoon

olive oil

(added to pan)
Other Lunchbox Ingredients
cheese tortellini

steamed green beans

cantaloupe

(used a melon baller to make them round)

blueberries

mini chocolate chip cookies
Instructions
In a small bowl add the ground turkey, and all ingredients.

Mix the ingredients together with your hands, or if you prefer use a fork or use gloves. (If you do mix with your hands, have a small bowl of water to dip your hands in so the turkey won't stick to your hands. Do this to roll the meatballs as well)

Heat a small or medium saucepan over medium heat, and add a little water to the pan. As soon as the water starts to bubble, add the meatballs. This lightly steams them, and not fry.

Cook for 3 minutes, and move the pan so they cook on the other sides for another 3 minutes, then do again.

This is a good time to cook the cheese tortellini according to the package instructions. This way the meatballs, and tortellini will be done about the same time.

Now add the olive oil to the meatballs and cook for another 2 minutes, so they brown.

Remove from the hot pan, and let rest for a minute. Then add all the ingredients into the lunchbox.